The Power Of Prayer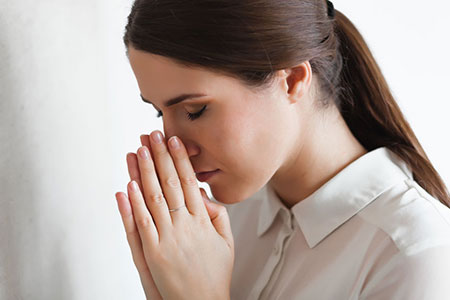 Many people only turn to prayer in times of extreme trouble or fear. I was brought up, however, in a home where one also said grace at mealtime, to give thanks for the food on the table. It is always a good idea to have gratitude for the food that nourishes our body. Prayers were also said before going to bed for the night, asking for good things for our family, as well as our friends, pets and life in general.
It's my own belief that we come into this world with the knowledge of prayer. It is as natural as breathing, and just as important for our spirit. Prayers do not have to be said out loud to be heard by the Infinite Intelligence, or the energy known as God. The spirit world does not have rules or limitations. There is no time or place as in the material world.
After all, we are body, mind, and spirit. We are spirit residing in a physical body for a while, before we return to the spirit realm. Prayer is one of the ways to get in touch with the Other Side, the place that some call Heaven, our spirit home. Prayer can be a great comfort to those who believe in the hereafter, angels, saints and a God energy. If you are feeling alone in the world, prayer can make you feel a connection with your ancestors that have crossed over before you.
A day without prayer is a day without blessing, and a life without prayer is a life without power ~ Edwin Harvey
Prayer can also shift us into an altered state, enough to forget about our troubles and experience gratitude again. Prayer can rekindle all sorts of emotions, some good….and some not so great. When the not so great feelings arise, prayer may help alleviate some of our inner turmoil. It takes you outside of yourself, much like a meditative state.
Prayer is a very unique personal experience. What is considered prayer for one person, maybe something completely different for another. In my own opinion there is no right or wrong way to pray. T. S. Eliot wrote that "the conclusion of our exploration is to find ourselves at home again and to know the place for the first time."
Many people find themselves praying for help for others, and themselves. The word prayer originally means 'to plead.' One time in my life, I prayed like I never thought possible, in a sort of trance like state. I was pleading for my preemie granddaughter's life. She was born premature at two pounds thirteen ounces. Perfect in every way, but so tiny! I prayed to God, my dad, my ancestors, my guides and angels, and all of the spirit world, to help her survive. My prayers were answered. She is now 24 years old.
It is my belief that prayers do indeed help outcomes. When a child leaves the nest, parents can pray for their protection and well-being. Some people pray for the dead to have an easy peaceful crossing over with no pain, and for them to be at peace. Prayer can also help the bereaved cope with their feelings of grief for the loss of a loved one. It has been my experience as a psychic medium that talking to a deceased loved one, as well as deceased pets, is prayer to them. It is a conversation, much like you would have with them while they were alive.
Prayers for guidance are just that. Not to show us our whole future, but help us with decisions and different possibilities. It is always up to us to make up our own mind. That is called living your own life. The guidance may come as a thought, feeling, a knowing, or in a dream.
Prayer should not be regarded as a duty which must be performed, but rather as a privilege to be enjoyed, a rare delight that is always revealing some new beauty ~ E.M. Bounds
Many people use aids to enhance the mind state for prayer, for example a photo of a loved one or pet to focus on. Prayer beads also help to get one in altered state, thus less conscious of your words and more feeling. Some people like the sound of chimes or music while they pray. I like the combination of beads and unscented candles when in my meditation room. Some people feel you need to be in a special place or complete silence. Others believe prayer is appropriate any time or place.
My significant other Ernie always prays for a parking space wherever we go. Almost all the time he gets one right in front of the place we are going! I always pray for safe travel by car, and I ask that the wild animals stay out of the road.
Prayer is the universal language of the soul. How you choose to pray is always a personal choice. It can be a simple short prayer or a long meditation. I feel it is the intention we set for the prayer, and our sincerity in the act, that make us feel heard. I believe that all people have or will pray at some time in their life.
SOURCE: Prayers for Everyday Living by Alan Walker, 2003.

About The Author: Elizabeth

Elizabeth's talents go back several generations. She found her own gifts and embraced them at an early age, recognizing the difference between herself and most others around her. She's since honed and mastered many metaphysical practices, providing hypnotherapy, Psychic Mediumship, Mysticism, and Hypno-Reiki to her clients in Maine, and in areas around the US and in Canada, where she travels. A lover of pets, they are her greatest teachers and these unconditionally loving creatures often chime in on a reading in addition to the Angels, Guides and loved ones who provide resolution and answers for each of her clients. Elizabeth is also an author with much spiritual wisdom to impart and is currently working on a book. If you'd like to be a recipient of her unique Psychic Wisdom, find peace and receive answers that will also benefit your highest good, you can reach Elizabeth at Psychic Access.