The Spirit Rituals Of Life – Part 3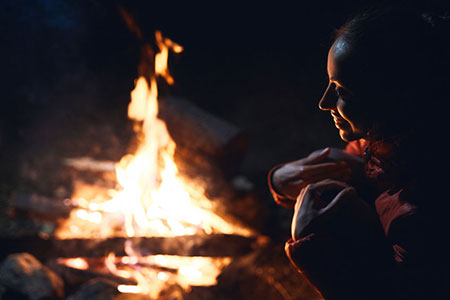 Pain can just make things downright miserable. We can have the best of everything: a great job; a wonderful, caring spouse; a wonderful home; wealth and luxury; the list goes on, but if you're in emotional pain, or suffering from a chronic illness, it is very difficult to connect spiritually… let alone do anything uplifting every day.
But, committing to rituals that are good for us every day, can help relieve the pain. I have many clients who suffer from fibromyalgia, depression, and all kinds of pain. One thing that I can say for sure is that whatever may help or work for one person, may not for another. Each person needs to be helped on a individual level.
I have found that emotional pain is sometimes just as painful as physical pain.  Those that have lost loved ones sometimes don't want to get out of bed, just like my client who suffers from migraines, she just wants to lay in bed most days with the shades drawn and to be left alone.
While I was alone in the woods, I asked some questions regarding pain, and how pain can help us to take action to connect with more happiness or contentment.
How can we relieve physical pain? Spirit says, "If it doesn't kill you, it makes me stronger." Do things that help alleviate pain. For example, one of my clients suffered from severe osteoarthritis and arthritis, so she took it upon herself to start taking supplements that build up the joints and help cushion the bones when they grind against each other. She said that this one little daily ritual is what has saved her from experiencing the pain on a grand scale. It has minimized her discomfort remarkably.
Pain has its own noble joy, when it starts a strong consciousness of life, from a stagnant one ~ John Sterling
Getting out in the sun also helps, and exercising helps. Even a little walk does us good and gets circulation going. It gives us energy. Some people find hot bathes, with Epsom salt, to be very soothing for some types of pain. Taking vitamins like magnesium can also be very healing.
One can also join a pain support group, and receive more empathy from people who relate to our suffering in the pain department. The camaraderie is healing, and talking with others can keep our mind off our pain.
One can also learn meditation or practice astral projection to escape from pain. It works for those who are spiritually more open-minded and able to quiet themselves and separate themselves from the drama and chaos of the world.
With today's opioid crisis it may also be better to explore pain medication alternatives, as some products can be very addictive and create serious health problems when overused.
Out of suffering have emerged the strongest souls; the most massive characters are seared with scars ~ Khalil Gibran
Spirit also says that a lot of pain in the body, migraines, arthritis and lack of energy, is sometimes due to the people we allow into our environment. If we are around those who are toxic and they are bad for our energy, it also affects our body. When I'm around someone who is extremely toxic, my hands literally feel the same way than being right in front of a microwave oven. It doesn't feel good or healthy at all. Sometimes making a change is all that is needed to start a wonderful positive domino effect of amazing health and well-being, by simply deciding to not to be around certain people that are not good for us.
It's important to have daily habits and rituals that are good for our mind and body, but most importantly for our spirit. If we take care of the spirit, the rest falls into place. It's vital to our spirit that we do what we can do for the now and the later. It's all about your personal 'spirit rituals.' Choose yours and stick to them! Your spirit will thank you.

About The Author: Moon Goddess

Moon Goddess is a third generation empathic healer and seer. She started to give healing readings to people more than 20 years ago. She has always been interested and studied all things metaphysical from a young age. Being hypersensitive she can feel and see things before they happen. Utilizing the Tarot, and with the help of her Guides, she is a source of support for many people all over the world. After he passed over, her grandfather kept his promise and came back to say goodbye and gave her the most amazing experience. Moon knows there truly is a Heaven, and it is wonderful! Sharing her experience has helped many people after they have lost someone, or anyone experiencing some form of grief. Get a reading with Moon Goddess now at PsychicAccess.com.


This site uses Akismet to reduce spam. Learn how your comment data is processed.