My Tarot Cards For Everlasting Love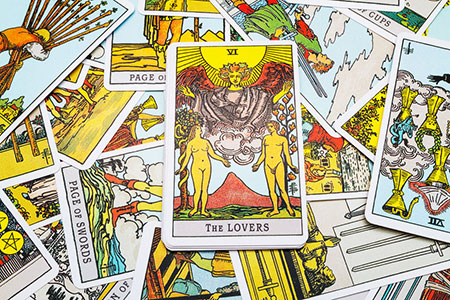 Clients often seek out Tarot readings to help them decipher if the relationship they are currently in will eventually become their 'happily ever after.' Here are my top ten Tarot cards that indicate longevity and success in romantic partnerships in a Tarot reading.
The Hierophant
This card typically represents a serious, traditional figure who is sincere and prefers monogamy over the dating game.
4 of Wands
A celebration card that symbolizes happiness and harmony, especially within the home.
2 of Cups
When this card is combined with other positive minor or major arcana, it indicates that this is a match made in heaven.
10 of Pentacles
This typically represents family and financial security, so expect the relationship to go the distance.
When two hearts become one, it cannot be undone. A promise has been made and cannot be broken or swayed. For this love will last an eternity and will not fade ~ Charlene M. Martin
3 of Cups
If combined with supporting cards, it shows that fun times are in store, and you're not only lovers, but also best friends. However, with multiple 3's is a warning that another party may be involved.
9 of Cups
Everyone wants this card to show up in a love reading, especially in the future position, because it means you get what you want.
10 of Cups
Another celebratory card, which usually indicates marriage, family and uplifting energy.
8 of Pentacles
This card isn't necessarily about romance, but it does mean that both people will be willing to work hard at keeping the love alive and staying consistent.
True love is eternal, infinite, and always like itself. It is equal and pure, without violent demonstrations; it is seen with white hairs and is always young in the heart ~ Honore de Bazac
The Lovers
When surrounded by other favorable cards, it indicates compatibility and someone who speaks your love language.
Kings and Queens
Court cards will typically show the maturity level of the person. So, if a King or Queen shows up it means they are more serious about relationships. A Page means they are ready to date, but are immature or more careless.
These are my top ten cards for everlasting love. Ask you reader which cards come up in the reading, so you can write it down and meditate on what it means for you.

About The Author: Laura

Attracting people from all walks of life, Laura has always been the type others come to for advice and direction. An initiated shaman, she's helped others to transcend fear and resolve dark aspects to achieve greatness in life and overcome limitations from the past.Spiritually, she's a mixed bag of traditional meets mystical, blending the best parts of Christian, Jewish and Muslim faiths with intuition and magic. She's been referred to as a witch, but considers herself a shaman. She uses her psychic gifts and divination tools to help you see the truth, awaken your spirit and overcome any problem. Contact Laura for a psychic reading at PsychicAccess.com


2 Responses to My Tarot Cards For Everlasting Love