Do Not Fill Your World With Loneliness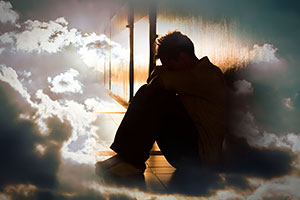 Are you lonely? We all experience times when we actually choose to have some 'alone time', but loneliness is not the same as choosing to be alone. Loneliness is being alone, but feeling saddened by it.
My husband is currently in hospital here in Spain and I am in awe of the number of family and friends constantly visiting patients in hospital here. This is encouraged by the doctors as the best aid in speeding up healing. They must know that loneliness is a response to the need to belong. Interpersonal relationships give us emotional health and the basic need to belong is as fundamental as the need to breathe, sleep or eat.
The most terrible poverty is loneliness, and the feeling of being unloved ~ Mother Teresa
I recall my first body alignment session some fifteen years ago with Jack, a specialist practitioner in the field. During that session he touched on some specific ages in my life, and certain relevant emotions I'd felt then. The emotions were relevant to certain emotional blocks, or what I now identify as painful growth experiences. This helped me later in life to truly identify with what some of my clients go through.
Loneliness appears to be the path of so many individuals for whom I do psychic readings these days, whether they are young, old, rich or poor, and no matter where they are based geographically. Even when they are surrounded by many people, they still feel lonesome.
During that very first body alignment session with Jack he said, "You were lonely until eleven years ago, weren't you?" He added that he thought he might have made a mistake and so checked again with his faithful pendulum, and got confirmation the second time around. He couldn't quite get his head around how such deep-seated loneliness could have been my journey, but he was spot on – it was exactly eleven years.
My childhood was an extremely isolated and lonely one, but in my early adult years I was surrounded by many people. But I remained profoundly lonely. I tried to escape that awful 'hole in the soul' feeling with alcohol, which only caused me to withdraw even more from my social circle. Later the twelve step program was a big key in my healing. In time it would enable me to identify with other women struggling with substance abuse and addiction.
But after I became sober the emptiness and forlorn feeling remained. Meeting the man I married was the next instrumental step in filling the void. But only when I began to fully pursue my two life passions I finally felt complete for the first time in my life. Those two passions are working for spirit in the work I do, and being surrounded by my menagerie of rescue pets while I am doing that work!
Pray that your loneliness may spur you into finding something to live for, great enough to die for ~ Dag Hammarskjold
Loneliness is a passive state. That is, it is maintained by our passively letting it continue and in doing nothing to change it. We hope it will go away eventually and we tend to do nothing but let it envelop us. Strangely, there are times when we might even embrace the feeling. Yet, embracing loneliness and sinking down into the feelings associated with it, usually leads to a sense of depression and helplessness. This, in turn leads to an even more passive state and more depression. In hindsight, my personal changes began when I admitted to myself that I was lonely and that I wanted to initiate changes.
Statistics suggest that there is a growing loneliness epidemic to be found among younger adults in the 18 to 35 year old age group. The problem is apparently even more prevalent in the over 50 category. I often wonder if this has to do with less personal human interaction due to increased communication via technology and social media.
If we are lonesome, because we are grieving for someone who has passed away, expressing our grief at this loss and focusing on the happier times can be good memories which remain with us. It helps us turn away from the emptiness without the physical presence of that loved person. In the short-term, help lines (for example the Samaritans), support groups or consultations with a medium can be a good source of support.
In the long-term it is necessary to take action and make some changes in your life. You are the answer. It starts with you. There will be times when you need to recharge your batteries and be solitary. Pat Rhodegast once wrote, "In your alone time, you will not fill your world with Loneliness anymore – You will fill your world with You".

About The Author: Shani

Shani is a qualified practitioner in Reiki, aromatherapy, reflexology, body spin, and animal telepathy who received psychic development training at the Arthur Findlay College of Psychic Research in England. A published writer, her articles and predictions have appeared in several respected magazines and on psychic websites, and she has read for many celebrities and even heads of state in Africa. Because of her empathy, people find it easy to connect with her. Every month, she attends a psychic circle and the information that comes through from Spirit never ceases to amaze everyone present. Though she was born in London, Shani has traveled the globe and has studied the art of African Mysticism, bringing her unique flavor to those seeking her incredible talents. What she has taken away from her many travels abroad, is that there is always a sort of longing clients have to be connected to the source of their being. Get a reading with Shani at PsychicAccess.com.


2 Responses to Do Not Fill Your World With Loneliness