Why People Cheat On Their Mates – Part 2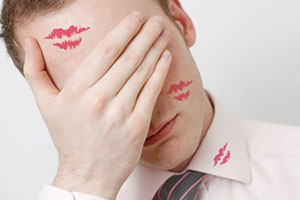 In my first blog in this series, I touched on some reasons why people cheat on their partners or spouses. But there is never an excuse for cheating. I was given permission by two of my clients to share with you their experiences with cheating. It is my hope and theirs that in sharing these stories readers in a similar situation may find some insight, answers or advice for their own circumstances. Today's story is about Diane.
Married for 22 years to Michael, her high school sweetheart, Diane found out that Michael's business trips had not been all about business. At one of these "conventions" he was attending, he met up with another women who he took to his hotel room. When Diane called that evening to say hello, she could tell intuitively that something wasn't right. She even heard Emily for a brief moment in the background. Michael lied and told her it was room service, but she knew different.
Cheating and lying aren't struggles, they're reasons to break up ~ Patti Callahan
All their children had graduated and were out of the nest, and she felt that Michael was perhaps having a mid-life crisis. There was nothing wrong with the level of intimacy in their marriage. Their relationship seemed fine and they even went on vacations together. So, it was difficult for her to even fathom him wanting to be with another women?
When she called me to find out if he was indeed cheating, I saw that he was being deceitful. Through remote viewing I could establish that he was in fact having a full blown affair. I saw a vision of him talking on a pay phone, which is fairly non-existent these days. He would call the other woman and talk to her almost daily using a prepaid phone card. Diane later found the prepaid phone card in his jeans while she was doing laundry. She felt her late grandmother helped her find it, since she needed a sign to know for sure. During the reading I had told her she would find something.
Diane was uncertain about what to do. I advised her to ask him flat out if he was having an affair, and to share with him the dreams she had been having about him being unfaithful. But when confronted he told her that he was not seeing anyone.
In our next consultation I reassured Diane that the other woman would call the house, which she did two weeks later. Michael was in the shower, his phone rang and it was a call that came from the state where he goes on these "conventions." The voice on the other end said, "Hi, is this Diane?" Yes, who is this? The voice replied, "My name is unimportant, but what is important is my love for Michael, I am going to take him from you and there is nothing you can do about it, because he is in love with me." Then she hung up. Diane was shocked. She sat down in the living room waiting for him to come out of the bathroom.
Earthquakes just happen. Tornadoes just happen. Your tongue does not just happen to fall into some other girls mouth! ~ Gemma Halliday
While she was waiting, she remembered how I encouraged her to become calm and quiet, and to go within to tap into her inner guidance. It worked and she heard the word "communicate" come into her mind. So, she waited patiently for Michael to make his way to where she was. He sat down as she had asked him to, and once seated she looked right at him, and asked him: "Why would you cheat on me?"
Michael at first denied everything. Then she went on to explain she had been having these dreams and feelings ever since she had called the hotel room, and how he always did nice things after he came home, but no longer does. She then told him about the phone call that she just received. Michael fell silent. At first he didn't know what to say, but then he admitted that he had had an affair and how he didn't want the kids to know. Then he made a shocking confession. He had just found out she was pregnant with his baby.
Diane asked him why he felt the need to step out on their  marriage? He said it wasn't Diane it was him. He felt something for the other woman and they got along really well. He claims it just happened, without him even thinking about it. He said he felt horrible and that he didn't want to hurt Diane and doesn't want his marriage to end.
But Diane simply said, "You can't have your cake and eat it. I thought you loved me, how could you do this!" She told him to pack his bags and to get out, and that she wouldn't stay with him. Once a cheat always a cheat. It was over. She wished him well and asked him not to bother her again. He agreed and they separated.
Diane remained single for a year and enjoyed her new freedom. It was difficult at first, but she stayed strong and built a new life for herself. She found a great Yoga group and made some new friends. One of her kids couldn't forgive his father for cheating, while the other two were too wrapped up in college to care much. They came around and supported their mom. Although they remained civil to their dad, their respect for him had diminished. The faith and trust that was there, was gone.
This isn't about slipping yourself an extra twenty dollars of Monopoly money. These are our lives. You went and broke our lives. You are so much worse than a cheater. You killed something. And you killed it when its back was turned ~ David Levithan
Recently, Diane met a nice man through a spiritual group. They are very happy and she looks years younger.
The other woman had Michael's baby, but sadly, Michael found that the grass was not greener on the other side. What he was looking for he still hasn't found.  Michael continues to have a wandering eye. The void inside of him was never filled.
Diane says the reason he cheated on her was because she believes there was something missing inside of him. She doesn't know what, as they had it all. They had a good life together. He even said so himself. He just couldn't help himself from looking at others for attention, and when someone finally gave him the time and attention he couldn't stop himself. Sadly, he is still not happy.
Diane asked me to share with my readers her special message: "It doesn't matter if your married or not, if your mate cheats on you they don't value you, they don't respect you and they aren't worth your time and energy, or love. Change can be hard, but God gave you free will and you can improve your situation. Don't stay, just because you feel you have invested all that time. Don't stay because of the kids, especially if they are grown up. It is better to live a life of truth and respect for one another, than to stay with someone who is always looking in another direction. Life is too short.
In my next blog in this series, I will share another clients story.

About The Author: Moon Goddess

Moon Goddess is a third generation empathic healer and seer. She started to give healing readings to people more than 20 years ago. She has always been interested and studied all things metaphysical from a young age. Being hypersensitive she can feel and see things before they happen. Utilizing the Tarot, and with the help of her Guides, she is a source of support for many people all over the world. After he passed over, her grandfather kept his promise and came back to say goodbye and gave her the most amazing experience. Moon knows there truly is a Heaven, and it is wonderful! Sharing her experience has helped many people after they have lost someone, or anyone experiencing some form of grief. Get a reading with Moon Goddess now at PsychicAccess.com.