A Message From A Dog To His Human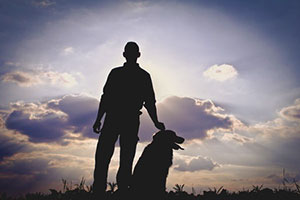 The following is a transcript of a reading I had the honor to recently channel for a client whose dog had passed:
"He wants you to know he is with you still. Imagine his arms made of Light lifting you up, and letting you know he is floating in a wonderful place and totally pain free.
He wants you to know that he is part of the energy of the Light beings. In the same way that your finger is an aspect of your body, but he is not your entire body, he is an aspect of the angels, although not entirely an angel on his own.
He was not always a dog, and is not a dog now. He came back as a dog this time around because there are certain lessons we have to learn on our Journeys, and it just so happened that the lessons he had to learn this time could best be learned not only in dog form, but with none other than you.
If there is a heaven, it's certain our animals are to be there. Their lives become so interwoven with our own, it would take more than an archangel to detangle them ~ Pam Brown
Tingling and floating, all the pain gone. That is what it feels like to be where he is now, and he wants you to know he is okay. Then, when you are ready, he would like to go to where they are waiting to take him, but wants to stay with you for awhile because he loves you so much and is sorry to have led so much sorrow to you.
His passing, as you know, was all at once and complete, almost like a memory. He had a perfect understanding of it. His gratitude knows no limits for your consciousness of knowing exactly what he needed when his time came.  And, you knew when the time came.
The point of it all is love. You loved him so much and he knew that. It was beautiful. He loved being in dog form. He came to you with one purpose, to love you. To be with you. To feel your heart beat. It was wonderful. Divine. And, to be loved by you.

About The Author: Mountain Sage

For thirty-six years, Mountain Sage has been providing her much sought after insight, coaching and spiritual counseling to clients locally, as well as internationally. Many other psychics, spiritual counselors and healers, professionals, celebrities, and individuals of all backgrounds, have relied on her gifts to find their way through muddled times. Mountain Sage is the student of an exalted Gurugi in Bombay, and Shaman of the Fireheart Sweat Lodge in Santa Fe, New Mexico. Her extensive training includes Oracle, Healing, Universal Laws & Principles, the Sacred Circle and Psychic Shielding. She specializes in Ascended Masters, Altars, and Minerals. She holds the great honor of Oracle Carrier by her tribe due to her outstanding psychic ability, passion for the psychic realm, integrity and sacred work. She blends mystical understanding with practical application, and her art is connecting with the Divine. Get a psychic reading with Mountain Sage at PsychicAccess.com.


This site uses Akismet to reduce spam. Learn how your comment data is processed.