A Visit From Ken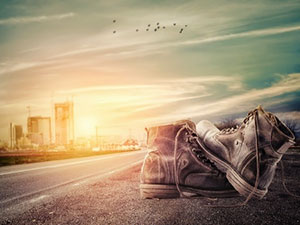 When I was 21, I moved eight hours away from my home town. I left behind friends, family and a dance company I owned. It was a difficult decision, but I knew it was time to move to Los Angeles to become a performer.
One month after I moved, I received a phone call from my ex-boyfriend, Ron. Ron told me his uncle Ken had passed. I was horrified. I had not said goodbye to him and had not spoken to him since I moved.
I loved Ken. He was into reincarnation and metaphysics. We had many conversations about what happens when you cross over and what the afterlife was all about. We had read many of the same books and had the same philosophy of what the other side was like. I remember Ken's great salads and dinners, and how he had really tried to make a family atmosphere for Ron and his little brother after he had adopted them. I remember his enormous work boots he put by the front door every day after working as a contractor.
Friendship is the only cement that will ever hold the world together ~ Woodrow T. Wilson
I told Ron that I was too upset to talk and ended the call. I sat on the couch and said out loud, "Ken, if you can hear me and you are okay, and everything that we talked about is true…"
Before I could finish I heard a loud knock on the door. It startled me so much I flew onto my feet and almost ran to the door. I made it there in seconds. I was surprised to see that the security screen door was locked, therefore preventing anyone from making the loud, knocking sound I heard.
Then I knew.
A few seconds ago I was going to say "Ken, if you can hear me and you are okay and everything that we talked about is true, about what happens after we pass and on the other side, please give me sign". I now knew he had read my mind and didn't need me to finish the sentence out loud.
Of course, there was no one at the door. How could anyone have left so soon? I ran into the street. No one to my left, no one to my right. I knew it was Ken. How, I don't know, but it was Ken letting me know he was okay and everything I believed about reincarnation and the other side was true.
Let us be grateful to people who make us happy, they are the charming gardeners who make our souls blossom ~ Marcel Proust
If that wasn't confirmation enough, I noticed these enormous work boot footprints going into the middle of the lawn. Four footprints to be exact. The prints ended in the center of the lawn, making it impossible for anyone to get away without leaping at least 20 feet from the last footprint out into the street and away from the grass, or at least 10 feet into the driveway. Or someone would have had to back up and retrace their foot prints exactly over the four footprints and run away in just seconds.
Ken knew that those work boots were a big part of my memory of him. The validation and message was clear.

About The Author: Satya

Satya lives in Northern California and is a natural Clairvoyant, Empath, Conduit, teacher, author, animal lover, healer, Reiki Master and an advanced yoga instructor. She has provided valuable psychic assistance to Hollywood stars, athletes, and everyone else in-between. A multi-layered Intuitive, with many unique gifts at her disposal, she can give you a doorway into the past as well as a gateway to a happier future. With her long distance energy work, she provides healing for people and animals too! She instantly spots karmic connections from past lives that directly affect current situations, helping clients to move through them quickly. For accurate solutions on just about any pressing problem, you can find Satya at PsychicAccess.com.


This site uses Akismet to reduce spam. Learn how your comment data is processed.