Reconnect With The Power Of The Universe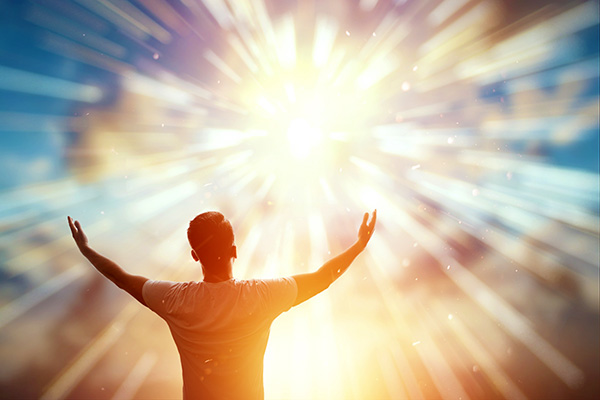 When we come into this existence, we remain energetically connected to the colossal power of our Source. The infinite power of the universe is always with us.
When we desire something that will serve our highest good or enhance our sense of self and well-being, this eternal power to which we are all connected is always working on our behalf. Why not use something that is already there as a natural extension of who and what we are?
The trick for most of us is to fully believe, accept and utilize this creative energy connection.
When we are in the habit of not expecting too much good to happen to us, Source does not judge or question, nor does it actively seek to improve or change our lives without our participation. It simply remains present and continues to flow in resonance with our passive or even pessimistic energy frequency until we awaken to the full magnificence of its full transformative potential.
It is up to us to reach out and call upon the creative power of the Universe to create a flow of energy in a new direction or at a higher frequency that will immediately respond to our intentions, wishes and desires. You may have tried to connect with source energy in this way, but have not received favorable results. The main reason this happens is often because our doubt, fear or negativity has blocked the way.
Everything that exists is a manifestation of this life energy. By becoming more attuned to this gold mine of consciousness and working with it, we can make our lives miraculous beyond anything we can imagine ~ Michael Picucci
The more we doubt or fear, the more energetic resistance we create to the universal flow of abundance and the more we remain disconnected from our full manifesting potential. Cultivating the right mindset of trust, faith and gratitude is paramount to our individual success. This is usually achieved only through much trial and error. Once we find it, we regain a tremendous personal power that we did not realize we always had.
Acoording to Abraham-Hicks, "Someone who takes the time to understand their relationship with Source, who actively seeks alignment with their broader perspective, who deliberately seeks and finds alignment with who-they-really-are, is more charismatic, more attractive, more effective, and more powerful than a group of millions who have not achieved this alignment."
I encourage you to reach out to the true source of power within. Trust that this higher power will bring you all the good that is available to you and expand your personal and spiritual potential. You may be very surprised by the wonderful results.

About The Author: Kitty

Kitty is a Canadian Intuitive, born into a large family of clairvoyants and clairaudients. A local celebrity, she's been giving accurate predictions in her paper for over fifteen years now, and is often called upon to lead séances and provide readings at Psychic Fairs in Vancouver. A trained counselor, she combines her natural Gifts to detect blockages at their root, and provide detailed psychic information and practical advice for success and happiness. She's helped locate missing items and people, has communicated messages from loved ones who've passed on, and communicates with two Sacred Celestial Beings who are unerring in the startling information they provide. If you'd like to connect with this remarkable Intuitive, whose talent spans generations, you can find Kitty at PsychicAccess.com.