My Experience With Aura Chakra Resonanz Imaging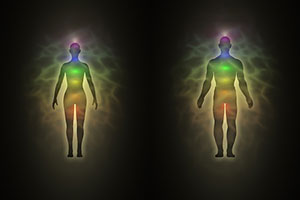 The first time I had an aura and chakra scan done, I caused quite a bit of bewilderment for the practitioner.
My wife and I went to a psychic convention in downtown Columbus, Ohio, where they had several booths and stalls set-up offering a variety of metaphysical services and products. It is here that I had the opportunity to try out the Aura Chakra Resonanz Imaging system. This computerized system uses biofeedback sensors to capture the emotional and energy states displayed by your chakras and aura. It basically takes a photo of the energetic colors present in your energy field.
Chakras are energy-awareness centers. They are the revolving doors of creativity and communication between spirit and the world ~ Michael J. Tamura
Well, they hooked me up to the machine and completed the imaging. The man who did the scan looked at my results and seemed perplexed. He went over to his colleague and showed her my colors, which they then discussed. Once they were done, they came over to me and asked me questions that did not surprise me. Of course, the first thing they wanted to know was if I have had any paranormal or psychic experiences.
I then told them that I was a third generation psychic; and that my mother, my niece Rachel, as well as my aunt and uncle's grandchildren all had the gift. I also know that on my mother's side we had ancestors belonging to the Blackfoot tribe. I further told them about my work as a psychic reader at PsychicAccess.com and that I have the ability to sense ghosts. All of this was confirmed by the chakra scan, because my Third Eye Chakra showed up as very strong.
They also found it interesting that I displayed two colors on my Third Eye Chakra, namely green and yellow-gold. I was also surrounded by a bright blue light in my aura.
Yellow energy is indicative of creativity, optimism and life energy, while gold shows wisdom, inner knowledge, spiritual mindfulness, and being an intuitive thinker. Green relates to being a sociable person, teacher and communicator who loves people, animals, and nature, and has the ability to give and take love unconditionally.
The chakra system, in fact, is a part of the ancient and lost mysteries. And, in the end, the chakra system in our bodies is how we find our way back to the most ancient mystery of all – God, the Oneness, the Omniscient ~ Rosalyn L. Bruyere
Apparently it was odd that I had blue around most of my body, but not around my Third Eye. He told me he had never seen anything like it before. Blue means that I am good at motivating others and expressing the truth in spoken words.
It was uncanny how the results of this aura and chakra scan confirmed so much about my personality and my psychic abilities. If you ever get the opportunity, have your scan done. You may be pleasantly surprised by what shows up on the screen!

About The Author: Raymond

Growing up on the streets of Columbus Ohio, Raymond learned at a very young age that he was gifted in many ways, including the ability to read someone's eyes and using a regular deck of playing cards to read the future! His mother was from a Native American family, namely the Black Foot tribe, and his father was German. Raymond discovered that both sides of his family had a psychic legacy. Over the years he has gained additional knowledge from books and by talking to trusted family members. Raymond has been doing psychic reading for others for over 3 decades, and over the years he gained many loyal clients from all walks of life. Visit Raymond for a reading at PsychicAccess.com