You Are A Human Being, Not A Human Doing!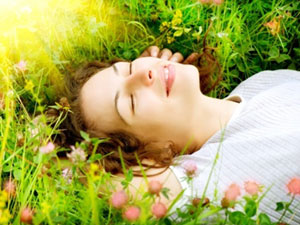 We are living in a fast-paced world where we feel we must do many things every day, hardly having much time to just be. To just stop. To think. To just be.
Instead of embracing the fact that we are a human beings, we are in this day and age more focused on being humans doing. We get caught in up in the web of life, with its chaos and drama. And we get frustrated and feel so rushed. There is no time to truly do the things we want to do; to spend time doing the things that matter the most. So, with this blog, I ask that after you are finished reading this you take a moment to just sit for 15 minutes and simply do nothing. Meditate. Just think about nothing and if thoughts come in, ask yourself: is this thought helping me to get in alignment with my true self? Am I in touch with the higher self that allows happiness to be a part of my space and life?
There is only one way: Go within ~ Rainer Maria Rilke
If the thoughts that are coming in are not happy or healthy, or not helping you to be spiritually aware and give you that feeling of being fulfilled, then you just allow them to go in and out. Just let it be. No need to over think, or evaluate, or spend energy on it. Just let it go. If a thought comes in and it's a stressor for you, note it and remember to maybe get rid of that thought or person from your life.
If you are experiencing thoughts that allow you to be more happy, such as "I really need to go swimming," or "I need to take time to meditate more and spend more time like this in silence," then by all means take note of those thoughts and apply them to your life.
Allow these 15 minutes to be a "tune-up" for your daily life and routine. Let God, or your higher self, or the Divine, commune with you during this time. Use this time to evaluate your life.
Your mind-body-spirit knows what you need and this is your time to listen to yourself and tell yourself what you need, and don't need. In taking this time it will help you to slow down during your day and enjoy your life in a more healthy way, and you will also find yourself enjoying those you love more.
If you have not yet succeeded on an inward journey, be gentle with yourself. Give yourself time ~ Gourasana
You will further find that you want to take time for yourself more often, so that you can exist on this new found higher frequency, enjoying and loving your life more.
Taking time for you to spend in meditation is important for your health and well-being, and it helps you to slow down and enjoy the little things in life. The people in your life will thank you for taking the time to meditate, as they will notice the difference in you. You will see.

About The Author: Moon Goddess

Moon Goddess is a third generation empathic healer and seer. She started to give healing readings to people more than 20 years ago. She has always been interested and studied all things metaphysical from a young age. Being hypersensitive she can feel and see things before they happen. Utilizing the Tarot, and with the help of her Guides, she is a source of support for many people all over the world. After he passed over, her grandfather kept his promise and came back to say goodbye and gave her the most amazing experience. Moon knows there truly is a Heaven, and it is wonderful! Sharing her experience has helped many people after they have lost someone, or anyone experiencing some form of grief. Get a reading with Moon Goddess now at PsychicAccess.com.