Not A People Person Or Pleaser, And It's Okay!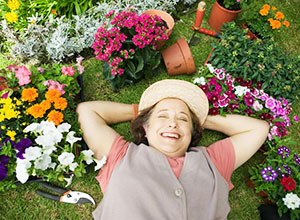 I have had clients tell me that they feel something is wrong with them, because they don't like to be around people. They prefer solitude. Others feel disconnected when around people, or it makes them feel smothered. People make them feel drained, or they feel out of their element.
If you are someone that does not like to be around people, or feels a sense of disconnect when in large groups, or even just engaging with others, fear not! I have some very good news to share with you.
It is my hope and prayer that this information will help you to stop being so hard on yourself when it comes to your social preferences. You do not need to feel guilty for not wanting to slap on a "happy face" and pretend to be someone you are not.
People pleasing doesn't allow you to receive ~ Abiola Abrams
There is nothing wrong with you in my opinion. There is a simple reason why you don't enjoy being around other people so much. The reason is that you have been to this planet many times before and basically you have "been here done this," as it were.
Okay, so you don't feel like being around your fellow humans. What to do? Tell yourself this, "it is okay that I don't want to engage with others." Then tell yourself, "I love myself just the way I am and now see the beauty in me that I never did. But instead of judging myself, or thinking there is something wrong with me, from this day forward I promise to allow myself to embrace the freedom of placing myself where I feel comfortable, and free, and at peace."
You no longer have to put yourself where you don't feel comfortable and then feel the need to take a pill or something to manipulate yourself to be around people you would rather not be around.
Understand that the main reason why you feel this way is that you have already been here many times, and gotten what you need from others by way of soul growth and soul evolution. You are here now to work on understanding the wisdom, knowledge and gifts you have acquired over many lifetimes, such as seeing things differently than most.
If you are not a people person, or people pleaser, and you feel a sense of disconnect when going about your daily life, there is most probably nothing wrong with you. In fact, you probably have had many lifetimes where you worked with or around people all the time. Maybe you were a doctor, or lawyer, or a psychologist, and now you have come back to explore your soul purpose and higher consciousness, and maybe help humanity indirectly in some other way. More times than not I have found this to be true.
I finally know the difference between pleasing and loving, obeying and respecting. It has taken me so many years to be okay with being different, and with being this alive, this intense ~ Eve Ensler
Don't live by other's rules. You have to discover why you are here and what you are meant to do. What makes you happy? I can share with you what that is anytime and would be honored to help you in this area of your life.
A friend of mine encouraged me to go ahead with the idea to write this blog the other day, when I jokingly told her I should write a blog and call it: "Not A People Person Or Pleaser, And It's Okay!" She was once a client who I helped to realize that in this lifetime she was to communicate with plants. I got her into gardening, and she now has a huge garden which she truly enjoys.
Sometimes we have to re-learn the things we have learned growing up to understand ourselves more clearly, so that we can allow our wings to open and soar the way we were meant to soar in this incarnation. You don't have to please all the people all the time.

About The Author: Moon Goddess

Moon Goddess is a third generation empathic healer and seer. She started to give healing readings to people more than 20 years ago. She has always been interested and studied all things metaphysical from a young age. Being hypersensitive she can feel and see things before they happen. Utilizing the Tarot, and with the help of her Guides, she is a source of support for many people all over the world. After he passed over, her grandfather kept his promise and came back to say goodbye and gave her the most amazing experience. Moon knows there truly is a Heaven, and it is wonderful! Sharing her experience has helped many people after they have lost someone, or anyone experiencing some form of grief. Get a reading with Moon Goddess now at PsychicAccess.com.