The Mysterious Lady In The Hallway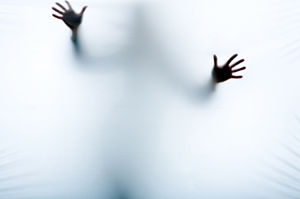 Dreams have also been a big part of my life since a very young age. No matter how long ago I had them, I still remember some of them as if it were yesterday.
I had a vivid, recurring dream starting about five years ago. There was this lady, I guess she was in her early 60's, and she was standing in a hallway. She was looking at me very peacefully. It was a little weird, because it was not my mother or grandmother or someone I knew.
For many years I wondered who this lady might be. Eventually it stopped, I guess for about a year, but all of a sudden she was back in my dreams and this time she began to talk to me. She would ask if had seen her brother, John? Very odd indeed, since I have a brother named John. It made no sense.
Time went on and the dream grew more intense, until finally in the last dream I saw the back of a man, his hair was silver and he was kind of short. The mystery lady walked up to him and said: "John! I have missed you since I had passed."
Dreams are answers to questions we haven't yet figured out how to ask – X-Files
The true meaning of this dream was revealed to me last week and it enabled me to bring much peace and consolation to someone who had been missing a loved one very much.
I was hanging out with some friends. A friend's dad stopped by to also say hello to us. We got to talking, and he told me about this dream he had about his sister standing in the corridor, saying his name and coming up to him for a hug. His sister passed like 3 years ago. He only had the dream once and he did not understand what it meant. Of course, I was able to instantly change that. Amazing how much joy and happiness one's dreams can bring to others.
About The Author: Raymond

Growing up on the streets of Columbus Ohio, Raymond learned at a very young age that he was gifted in many ways, including the ability to read someone's eyes and using a regular deck of playing cards to read the future! His mother was from a Native American family, namely the Black Foot tribe, and his father was German. Raymond discovered that both sides of his family had a psychic legacy. Over the years he has gained additional knowledge from books and by talking to trusted family members. Raymond has been doing psychic reading for others for over 3 decades, and over the years he gained many loyal clients from all walks of life. Visit Raymond for a reading at PsychicAccess.com


This site uses Akismet to reduce spam. Learn how your comment data is processed.