True Love Is Never-Ending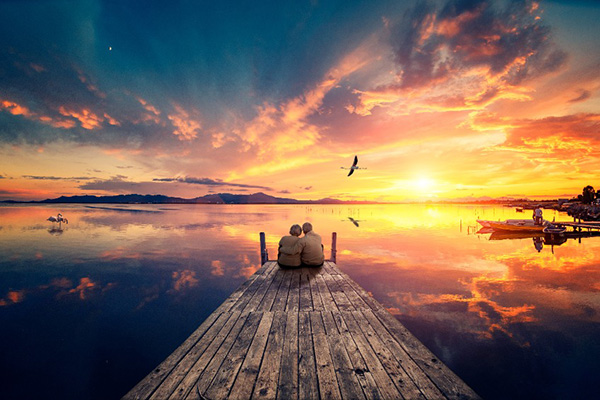 I love you. I love you, and you, and you! No matter what happened yesterday. No matter what was said, what was done, how we hurt one another, I still love you.
Three simple words. Really, love shouldn't be so hard. Since my childhood my goal in life was always to show love. Before money, before "common sense", before logical reasoning of life, my heart always took the lead. Believe me, this trait has led to much criticism over the years. Many people have considered me eccentric, crazy, even downright stupid. Yet, throughout the years, I learned to like myself and to accept others.
Perhaps I'm not the wealthiest woman in the world, with diamonds dripping off my neck. Perhaps I give away more than I keep. Yet, each night I go to sleep soundly, liking who I am. I can dance in the moonlight with the fairies under the kisses of Venus, with Lady Moon shining her soft glowing light through the country rural trees, the shadows of leaving dancing around creating the sense of those long gone flitting in and out of the corners of our eyes.
The answer is love.
Today is a new day, where spirit sends to me more people to love. It's just that easy. I simply let the problems and failed actions of yesterday go, remembering the lessons I had to learn in how to treat others. We are all human who make mistakes in how we express ourselves, in how we react, but we can always choose restore the love. All we need is unconditional love, and forgiveness.
For many of us there is the constant hope of one day meeting a life partner who 'gets' us, with all our flaws, all our doubts, all our insecurities. This task of finding just the right one is not easy. Some seek advice from us seers, who give answers, but sometimes the bottom falls out. One of us, or both of us do something really stupid, and the love ends. This is what we believe. But love doesn't end.
But true love is a durable fire, in the mind ever burning. Never sick, never old, never dead, from itself never turning ~ Walter Raleigh
Life is a flow of ups, of downs, of running the race, and then standing in the gates for what seems like forever, waiting, and waiting once again. Love flows over centuries, over ages, over time.  Love is an action of deciding to love, making the choices to try, to try, and yet to try again. All the great love stories in history point to this: Romeo and Juliet, Cleopatra and Mark Antony, Hadrian and Antinous, Elizabeth Barrett and Robert Browning, Elizabeth Taylor and Richard Burton, to name but a few.
Finding each other; then breaking off; coming back together; family, friends, work getting in the way. But in the end, the love, the fire continues to burn.
The tiniest ember, the tiniest lump of coal, still left red, burning, in the rest of the coals already turned gray, can get fuel added, more growth, more nurturing to build once again to a nice roaring fire. Times where the lump gets in our throat, fear gathers the ember of passion there to try to choke us, instead of in our hearts, our souls where it belongs. We need to get our head in balance, realize the love is still there as spirit walks with us, to bring the dream alive again. Have courage. Have faith. And learn to forgive.

About The Author: Mariella

Mariella is a New York resident, born in Italy, who began accurately reading at the age of eleven with just an ordinary deck of playing cards. She's since designed her own deck of oracle cards using a combination of Tarot, old-fashioned Neapolitan cards, and Angel oracles cards. She also developed a unique time board to use in her readings that provides clients with startlingly accurate time frames for her predictions. Deep faith, integrity, and warmth are her trademarks. She deeply believes that even the darkest situation holds light and hope, no matter how difficult or unclear the problem may be. She reveals and delivers spirit guidance with sincere love and a deep compassion for every soul who comes to her for lasting solutions to their problems. For a reading with this warm, funny, and highly detailed Clairvoyant and Empath, you can find Mariella at PsychicAccess.com.