Prayer Is My Refuge From The Evil In This World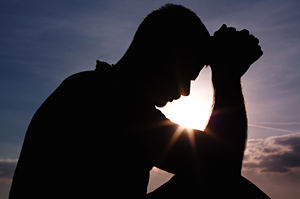 If you are allowing fear to come in to your life it will keep you from really embracing and enjoying life. It is your birthright to be happy.
I would just do one thing to help you through this. Pray. If you can do this a few times a day, it will help you to get in alignment spiritually. This way you can become more aware of those that are on the wrong path and keep yourself away from them. Prayer will also help you to become more connected to those who are on the path of truth and light.
We are living in a world where negative entities are making evil things look hip, and good, and attractive. It's really no secret, most people's eyes are wide opened to the fact that there is a constant war between good and evil going on.  I have to turn off the TV more times than not these days, as I see the forces of evil working on the younger generation. The influence of evil is stronger than ever before.
More things are wrought by prayer than this world dreams of ~ Alfred Lord Tennyson
We have to be wise to what is going on, and if we pray for that awareness it will be given. If we knock the door will always be opened; if we ask we shall always receive.
There are so many people struggling while they don't have to. All we have to do is pray and the snares from our lives will be removed. It's that easy.
We must be vigilant in our prayer. If we do, these things will be revealed to us and our lives will get easier. We will be free from fear and so much negative energy. We will live our lives with discernment and a greater awareness.
In my opinion the reason why there is greater evil these days is because people have fallen off the path of love and light. We can get back on that path with prayer.

About The Author: Moon Goddess

Moon Goddess is a third generation empathic healer and seer. She started to give healing readings to people more than 20 years ago. She has always been interested and studied all things metaphysical from a young age. Being hypersensitive she can feel and see things before they happen. Utilizing the Tarot, and with the help of her Guides, she is a source of support for many people all over the world. After he passed over, her grandfather kept his promise and came back to say goodbye and gave her the most amazing experience. Moon knows there truly is a Heaven, and it is wonderful! Sharing her experience has helped many people after they have lost someone, or anyone experiencing some form of grief. Get a reading with Moon Goddess now at PsychicAccess.com.