Aphrodite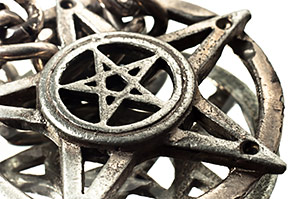 Possibly no other spiritual or religious icon in our culture is as misunderstood as the pentacle, or five-pointed star. Many people automatically believe the pentacle is connected to some form of darkness, evil or satanic worship. This could not be further from the truth.
Along with its powerful symbolism in Wicca and other pagan traditions, the pentacle also has roots in Christian and Jewish mysticism, as well as Native American religion.
Over the centuries the symbol has taken on many meanings. Its most lasting symbolism, however, is that of the five classical elements: Earth, Fire, Air, and Water, with Spirit at its head. Continue reading →
Posted in

Goddess, Metaphysics, Shamanism, Spirituality, Tarot
|
Tagged

Aphrodite, balance, beliefs, Christianity, culture, darkness, deities, education, evil, Jewish, Kabbalah, life path, magic, mystical, mysticism, myth, occult, pagan, planets, power, religion, Spirituality, superstition, symbolism, Tarot, tarot deck, totem, truth, Venus, Wicca, witchcraft
|
Leave a comment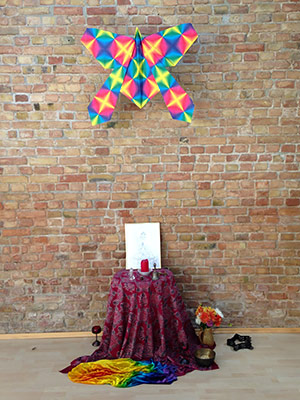 In my previous blog I shared the story of the sign I received from the ancient oracle during my visit to the Temple of Apollo at Delphi. Well, the magical presence of the butterfly totem did not end with my visit to Greece. In all of the other countries I was to visit on this particular European tour, I would encounter butterflies at every sacred site, and during special moments I shared with significant others.
The miracle continued when I arrived at a country inn in Gottsdorf, outside Berlin, Germany. This was to be the venue for a four day meditation seminar I was attending. The event was set to take place in a cozy Yoga studio attached to the small hotel.
The moment I entered this room, I noticed a small altar the seminar organizer had set up for the time we would be working in this space. The display was charming and colorful, but that was not what drew my attention. No, what struck me instantaneously was the large, vibrant butterfly hanging on the brick wall behind the altar.
Yes, indeed. I had received yet another mystical route marker along this personal odyssey into self-realization. This time the butterfly was not black and white, like the one who came to whisper in my ear at Delphi. Instead a brightly colored paper butterfly waved hello to me from above! It was like a psychedelic kaleidoscope reminiscent of the shapes one sometimes sees in sacred geometry art… or tie-died T-shirts from the 60s. Continue reading →
Posted in

Conscious Creation, Divination, Goddess, Intuition, Law of Attraction, Life Design, Metaphysics, Paranormal Phenomena, Shamanism, Spirituality
|
Tagged

altar, animal medicine, Aphrodite, archetype, beauty, change, colors, destiny, divine living, fate, Goddess, growth, love, magic, manifesting, Meditation, miracles, mystical, myth, omen, oracles, power animal, prophecies, prosperity, sacred geometry, sacred space, self-realization, shaman, signals, signs, spiritual messages, symbolism, synchronicity, totem, transformation, Venus
|
Leave a comment