A Tale Of Two Wolves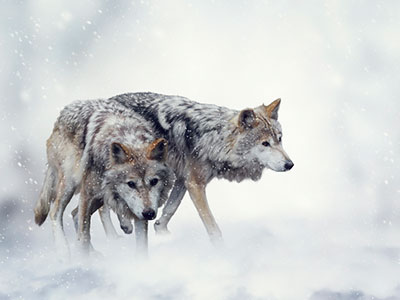 As a child, I always enjoyed parables, and even in my middle years I still like listening to a story that has real meaning behind it. Recently, I discovered a fabulous story.
A young Cherokee child gets into an argument with one of his peers whom, until now, he felt he had been on good terms with but on this occasion, however, felt that the other boy had been most unjust to him.
In anger, the Cherokee boy runs off to seek advice from his wise grandfather, an elder of the Cherokee tribe, who loves teaching his grandchildren all about life. After telling his grandfather of his injustice, the old man wistfully looked at his grandson and said that he too, in his life, had similar experiences that resulted in him feeling great anger. "It is like there is a fight between two wolves going on inside you," said the old man, "and indeed a terrible fight."
And I must believe that man has the power to know the right, to choose between good and evil and know that his choice has made a difference… ~ Marion Zimmer Bradley
The old man then explains that one of these wolves is full of anger, fear, arrogance, sorrow, greed, regret, lies and hatefulness. In short, there is an incredible amount of negative emotions within this wolf. As a result, he fights with everybody, never runs with the pack and is known as a lone wolf in the truest of respects.
The second wolf, however, still feeling the same anger and injustice, has a lot of love, peace, hopefulness, humbleness, generosity, faith, kindness and friendship going on inside of him.
The old man then turns to his grandson and explains to him that this very same fight was currently going on inside of him too, as well as a lot of other people.
Having listened to his Grandfather's words and what had been put to him, the child turns and says, "But which wolf wins?" To which the old man replies, "The one you decide to feed – as he becomes the stronger one."
Thankfully, each and every day we possess the power to decide which of our wolves we want to feed and I hope this story inspires you to feed the good wolf within yourself. After all, you cannot feed them both as by doing so it would result in great disharmony in your life. By feeding your good wolf, however, you should surely experience peace, love, joy, goodness, patience, kindness, gentleness, faithfulness and self-control.
Being against evil doesn't make you good. Tonight I was against it and then I was evil myself. I could feel it coming just like a tide… I just want to destroy them. But when you start taking pleasure in it you are awfully close to the thing you're fighting ~ Ernest Hemingway
How To Feed Your Good Wolf
Have a good start to your day
Try to avoid any bad news, to begin with, if possible. I am not suggesting that the news and media should be avoided, as everyone has the right to freedom of speech and we do need to remain well-informed as to world events. Furthermore, the denial of reality brings with it no benefit. However, listening to your favorite sports channel may be a good start to the day, rather than simply beginning it with potentially disturbing news.
Practice mindfulness
No longer considered to be a trendy fad, more and more people are practicing mindfulness on a daily basis. Why so? The reasons are manifold, i.e. it helps us to outsmart stress; find peace of mind during those crazy days we all have from time to time; be more creative; and then some. So what does this all result in?  It means that when we are in a better place within ourselves, by practicing mindfulness on a regular basis, this in itself is feeding our good wolf and should assist us greatly in being able to control the bad one!
Acknowledge the Bad Wolf
Both 'wolves' exist within us and while most individuals would choose, I am sure, to feed the good one, the bad one cannot and should not be ignored. I say should not because if we did not acknowledge the bad wolf, then we would not acknowledge the need to develop empathy towards others and self-control within ourselves. Furthermore, if we were to deny either wolf, it would only make the one being denied all the more passionate to be recognized. This is known as The Shadow Effect.
To summarize, it would be wise to listen to both those wolves whom reside within us and see what lessons they can each teach us, while making sure we nurture the good wolf at all times while acknowledging the bad one. In doing so, we cannot but grow and evolve as better and more stronger human beings.

About The Author: Lucinda

Lucinda is a highly trained Intuitive and Empath, living in a beautiful village in North Yorkshire, England. She possesses the rare gift of understanding a client's personal pain and has been through many challenges, herself, which has only made her stronger! It is both her calling and her happiness to help those in need. And whenever she needs a little help herself, her Guides are always there to assist in her development and provide clear interpretations for her clients. Prediction has always been a great tool she could count on to accurately foretell events, but Lucinda also draws on her expertise with Dream Interpretation, Numerology, Angel Cards, Law of Attraction and Life Coaching to provide full and detailed solutions to any problem. A member of AMORC and Beyond Freedom Evolution, she provides inspiration, education and personal support for spiritual development. If you'd like answers or want to attract your desires, you can find Lucinda at PsychicAccess.com.