The Mysterious Man In The Back Yard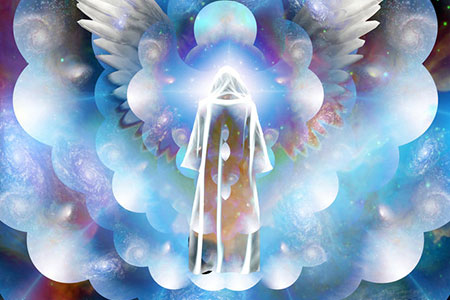 I remember coming out the back door, with  a Kellogg's Pop-Tart in one hand and a seven ounces bottle of 7Up in the other. It was July 13th. It was dad's birthday and I had to be about nine years old at the time.
The family spent the day at my grandparents' house to celebrate. More and more guests were showing up, until all the aunts, uncles and cousins were crowding together in the very small back yard.
I then noticed this mysterious man who I had never seen before. He was wearing a trench coat and he had a long beard. I remember thinking that he looked funny to me. I asked my mother who the man was, but when she turned around he was gone.
Later that night, I saw the same apparition again. It happened twice, and every time I saw him he was looking at me in a strange way. My grandparents became curious and asked me about this man I kept seeing. I described him and they seemed shocked.
My grandmother went to get a photo album and showed me an old picture. She asked me if that was the man I had seen and I immediately recognized him. My grandfather then told me that it was his uncle and that he died by falling off a cliff. Foul play was suspected, but nobody knew who might have pushed him or caused his accident.
Later that week, we took our bikes to cycle around a nearby hill. My older brother Mike was riding his bicycle down the hill and he suddenly hit a loose rock really hard. It blew out his front tire and was going very fast, but he was not seriously injured.
Children often have imaginary playmates. I suspect that half of them are really their guardian angels ~ Eileen Elias Freeman
After his crash, Mike told my parents the only thing he could remember that something slowed him down a lot before he fell. He said he was caught by a man with a beard who was wearing a long coat. He said that this man was his guardian angel who had saved his life. This experience taught me that no matter who we are, where we are, or how old or young we are, we all have someone in spirit who is always looking out for us, guiding us, and protecting us in times of danger.

About The Author: Raymond

Growing up on the streets of Columbus Ohio, Raymond learned at a very young age that he was gifted in many ways, including the ability to read someone's eyes and using a regular deck of playing cards to read the future! His mother was from a Native American family, namely the Black Foot tribe, and his father was German. Raymond discovered that both sides of his family had a psychic legacy. Over the years he has gained additional knowledge from books and by talking to trusted family members. Raymond has been doing psychic reading for others for over 3 decades, and over the years he gained many loyal clients from all walks of life. Visit Raymond for a reading at PsychicAccess.com