Keeping The Family Out Of Your Love Life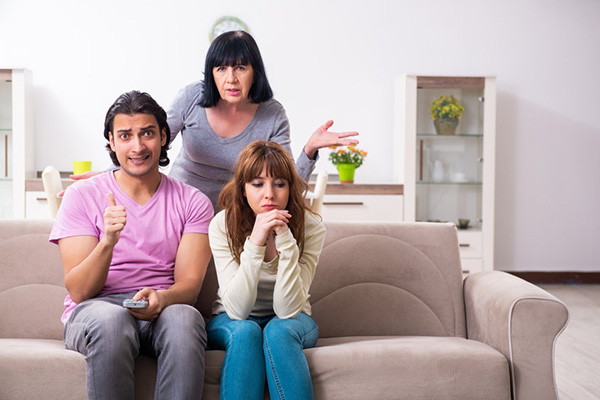 Family and our relatives have a huge impact on our romantic lives, whether we realize it or not. We bring so much from the way we were raised into our love relationships and marriages.
But having had a difficult childhood does not necessarily set us up for challenges and failure in our relationships. In fact, for those who are self-aware it can be an advantage of choosing not to bring the toxic drama of your childhood home into a current relationship.
For example, if you saw your father treat your mother without respect, you might set your mind to never allowing that happen in your own relationship. This kind of courage and personal responsibility can break the cycle.
We all have things that happen in childhood things that happen that are out of our control, it is all in how you deal with them that forms us as adults. We have a choice always.
The other aspect is culture and the values and customs with which we were raised. Depending on the circumstances it can have a significant impact on our relationships.  Once again it is a choice how we want to handle it. Do we follow the family traditions, or not?
It takes courage and an open mind to march to your own drum. Standing up for what you believe can also go a long way. Sometimes this is vital to ensure a healthy, happy relationship that will last.
Of course, the biggest challenge for most couples is having the family up in your relationship business. Do your relatives influence your decisions and interfere in your relationship? Navigating a relationship or marriage successfully in this day and age is challenging enough.
Just because someone shares some DNA with you they get to take your stuff? Call you names? Demean you? Sabotage your relationships and career? No way ~ Phil McGraw
The last thing you need is family members adding to your relationship challenges. If this is the case with your family, it may be necessary to set some boundaries… or risk becoming another break-up or divorce statistic.
It does not mean you have to cut ties with your family, but it might be time to change the rules of engagement and create some distance to protect yourself. Your family should be supporting your relationship and inspire you to be a better partner. If this is not the case, it may best to make some changes.

About The Author: Venus

Venus lives in Arizona and has helped clients with her arsenal of psychic gifts for over twenty years. She was blessed with Clairvoyance, Clairaudience, Clairsentience and Empathic gifts, and she is also a certified Life Coach and a Reiki practitioner. Departed loved ones will often enter a reading, either invited or they simply show up to pass along their messages. Messages also flow in from her direct communication to Spirit and Angels, providing the client with the answers they need to get them moving forward toward happiness, rewards, and success in their lives. In addition to being a psychic, life coach, and reiki practitioner, over the last ten years, she has also been a teacher and has led seminars to help others embrace their higher knowledge. If you'd like a compassionate psychic who can tune-in immediately and channel without tools, you'll want a reading with Venus at: PsychicAccess.com.