Small Steps To Big Changes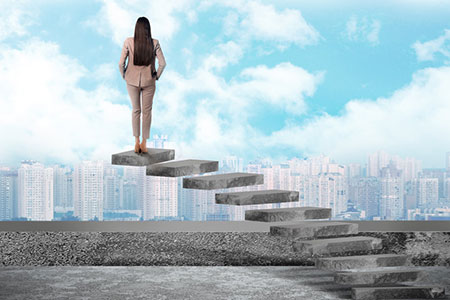 Making positive changes in your life can often feel like an insurmountable task. At times it can be so daunting that it might even seem easier to just have things stay the same, no matter how uncomfortable it has become.
This is especially true when we have been working on the same aspect of our life for years and still not seeing the results we were hoping for, whether the issue is weight loss, finances, health and wellness, family, career, or relationship.
For me the challenge was a particularly frustrating relationship situation. I felt that no matter what I did, no matter how hard I tried to grow and move forward, I always got sucked back into the drama and negativity.
I continually called on my angels and spirit guides to help me improve the relationship, to heal our issues, release our karma, and so forth. I tried anything and everything I could think of to achieve some of the harmony and peace I so much desired in my life.
This went on for years, and I was ready to throw in the towel and just accept that this one area of my life would always be out of balance. But as soon as I let go, I received the most amazing piece of information from my guides!
They showed me how I was focusing too much on the big picture, or the end result. I also realized that because everything wasn't miraculously healed over night, I was becoming frustrated and disregarding all the tiny steps and improvements I had been making in repairing the relationship.
My guides further told me to break the steps in the healing and reconciliation process down into smaller parts. Instead of seeking instant and complete resolution, I should be working towards small daily improvements. If I do this consistently, I will soon reach the end goal.
Sometimes the smallest step in the right direction ends up being the biggest step of your life. Tiptoe if you must, but take a step ~ Naeem Callaway
Breaking it down this way would be easier for my consciousness to process and that would prevent it from moving into patterns of self-sabotage and self-defeat, that had previously prevented me from improving the situation.
My guides further explained that asking for complete and instantaneous relief to deep-routed issues and concerns is much like ripping a security blanket from a child and not providing it with another toy as substitute. The child would go into panic and become emotionally distraught. Instead, by gradually releasing the energy, our minds are better able to adapt to the energetic shift and the situation will indeed improve.
This was all I needed to hear. For the next few months, I consistently asked for small improvements to the relationship that had frustrated and puzzled me for years. And wouldn't you know, just a few weeks in I honestly couldn't remember what had aggravated me so much in the first place! It seemed like a distant memory. And the best part is that the healing and growth continues to this day.
I invite you to try this baby step approach to any of those long-term, nagging issues you have been facing and watch them slowly slip away.

About The Author: Megan

Megan was born with wide open gifts, experiencing dreams and premonitions at a very early age. She has had 30 years of daily tutelage from Guides, Archangels, Ascended Masters, and the Ashtar Command. Since 1993, Megan has been providing honest and compassionate readings and healings, starting with friends and family, then transitioning to a professional practice, in 2006. She's certified in various psychic and healing methods, including Reiki, Angel Work, and specializing in relationship readings, giving detailed info on how long a relationship will last, whether the partner is honest, and what their intentions are going forward. Megan has accurately read for clients around the world. She is very proud and grateful for her client loyalty and has a long list of devoted clients who have worked with her for years, many since the inception of her practice. To get a life-changing psychic reading with Megan reach out to her today at PsychicAccess.com