Ask Spirit To Guide Your Every Step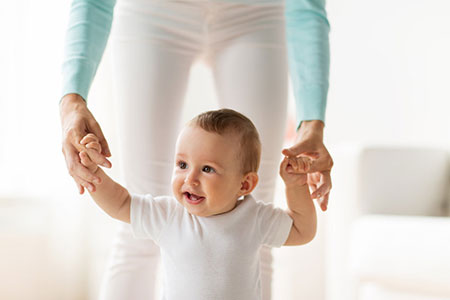 As babies we learned to walk on our own. We may have had some guidance and support from our parents or caregivers, to protect us from falling, but in the end we mastered it on our own. And once we learned to walk, we could in time advance to running, skipping, jumping, and so on.
Similarly, we must learn to make major life decisions for ourselves. We may receive guidance and support along the way from others, including Spirit, but in the end, we must master our life choices on our own.
One of the major challenges we all face in life is how we choose to manage stress and hardship in our life. Stress is a given. Setbacks happen. Overcoming adversity is part and parcel of our journey in this lifetime. No one can live an entirely peaceful and easy life of serene bliss, without dealing with some drama and chaos from time to time.
But we choose different ways to cope with the daily challenges of life. Some people choose to lead a healthy, uplifting lifestyle, as well as practice spirituality, while others sadly opt for destructive ways to 'cope,' such as substance abuse, various forms of addiction, and self-sabotaging behaviors, which only serves to make their troubles worse.
When it comes to spirituality, everyone must choose their own path. It is usually what works best for you personally that is ultimately the best way to go. But some choose to not have any belief system. One thing I have learned in this life is that spirituality is essential.
You don't have to go it alone. There is a great force, a powerful presence known as God, Source, Universe, Spirit, the Divine that guides and protects us. All we must do is ask.
Another important life lesson I have learned is that no one can truly know what you are personally going through, except yourself. Others will have their ideas and opinions of who you are, and what you may be going through, but none of that really matters.
You just have to have the guidance to lead you in the direction until you can do it yourself ~ Tina Yothers
What truly matters is that you are self-aware and in control of your own life. You get to choose the direction you will go in this life. Don't give away this power to others.
Yes, it can be absolutely difficult at times: emotionally, mentally, physically, and spiritually. But you don't have to go it alone. You do not. Ever since you came into this sojourn, this life, this incarnation, there has been help at hand. We just have to ask for it. Just go into that quiet space within and ask for guidance from that which you deem bigger than yourself.
If we ask, Spirit will always guide us towards a contented, peaceful life. I find those people who have some form of spiritual practice tend to better navigate their lives and seem to have things more together.
We have free will to choose, or not to choose. We have the freedom to pursue what brings us joy, happiness, and fulfillment. We make choices every day and it is vital that we seek guidance to help us choose what will serve our highest good.
I am open to the guidance of synchronicity, and do not let expectations hinder my path ~ Dalai Lama
Spiritual guidance is essential. I would never want to go about my life without it. It helps me to see with clear vision and make the best choices, mindful that every decision will affect my future.
When we took our first steps there were helping hands to guide and protect us. Now those hands are the invisible guiding hands of Spirit, God, the Divine. It is up to us to ask for this guidance. For when we do, we are less likely to stumble and fall.

About The Author: Moon Goddess

Moon Goddess is a third generation empathic healer and seer. She started to give healing readings to people more than 20 years ago. She has always been interested and studied all things metaphysical from a young age. Being hypersensitive she can feel and see things before they happen. Utilizing the Tarot, and with the help of her Guides, she is a source of support for many people all over the world. After he passed over, her grandfather kept his promise and came back to say goodbye and gave her the most amazing experience. Moon knows there truly is a Heaven, and it is wonderful! Sharing her experience has helped many people after they have lost someone, or anyone experiencing some form of grief. Get a reading with Moon Goddess now at PsychicAccess.com.