There Are Silver Linings In These Difficult Times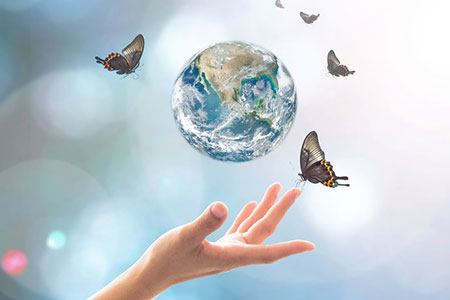 I remember my mom used to say that nothing good can ever come from something bad. While I fully understand her rationale, today I respectfully beg to differ. Even the darkest clouds can have the brightest silver linings!
Like most people, you are probably also sick and tired by now of reading, hearing and talking about Covid-19. However, this pandemic is a perfect example of how we can derive something good from something that has proven to be so incredibly challenging.
Of course, these benefits do come at an extremely high cost and we would all have preferred not to have this calamity happen in the first place. Even so, there are also blessings in every curse. The coronavirus pandemic appears to have at least had the following beneficial effects on making our world a better place.
Environment
During lockdown, nitrogen levels is said to have dropped significantly and experts say this may have resulted in a healthier planet, although the long-term effect remains to be seen. Nitrogen pollution is believed to be detrimental to our water quality, the quality of the air we breathe, the health of ecosystems, and biodiversity.
Apparently, for the first time in years, clean water ran through the Venetian canals, Delhi enjoyed blue skies, and the air quality in China improved considerably. Not only that, reports suggest that the quality of air around the globe has also improved and in some places wild animals were roaming wildly and freely in their natural habitat.
Industry
Covid-19 has also revolutionized how many of us work and will continue to work in the future. Many working people have experienced the benefits of working from home. For one, there is less commuter stress, less money spent on fuel and other expenses, and more time for family and home life. Estimates suggest that people working from home will be financially better off by doing so. In addition, many of us can now enjoy an enhanced work-life balance by being more in control of our working hours.
When a storm subsides, the air is washed clean of whatever particulate matter has been obscuring the view, and you can often see farther and more sharply than at any other time. ~ Rebecca Solnit
It is not only employees who benefit by working from home. Indeed, there are advantages for employers too. No longer will companies have to worry about geographical boundaries when it comes to employing the right people. Indeed, remote working is now more popular and I believe will continue to be in the future. Working from home may also increase employee retention, productivity and motivation, and that is always good for business!
Society
We tend to go through life not fully appreciating what we have. I know I have, too many times. Sadly, only when we suffer threat, adversity or loss do we take a more in-depth look at what we do have and start to appreciate it more.
The pandemic not only taught many of us to appreciate the good things in our life, but also to check our privilege. For example, never in my 60 years on this planet have I had to queue at a supermarket to buy food. But that is absolutely nothing compared to the many people who have tragically lost loved ones, jobs, and homes.
I also live in a country that has not experienced any form of real food rationing during the pandemic, although there have been empty shelves at my local store at times. But these experiences have also made me look differently at my brothers and sisters all over the world, some of whom are not as fortunate as myself to be in that supermarket, being able to buy that food or, indeed, have the transport to drive it home to their loved ones. Unfortunately, there are too many people globally who do not have access to such privileges, and I pray that we will be more determined in future to change this.
It is unfortunate that it took a pandemic for many of us to take stock of our lives and realize how lucky we are. The pandemic has reminded many of us to count our blessings and will hopefully create a post-Covid society that is more grateful, caring, kind and loving.
Spirituality
In challenging times, it is normal for people to turn to spirituality for support, comfort and guidance. In this sense the pandemic has been good for our spiritual growth. I am not suggesting that we do have to suffer to achieve such growth, but the truth is that for some it is what may be needed to become more spiritually aware. The positive knock-on effect of this spiritual growth is that allowing spirit into our life will keep us on the right path for our highest good at all times.
The isolating, slowdown effect of the pandemic have caused many people to become much more reflective of who they are, where they are, and where they want to go in future. If you have not yet made good use of this reflective period, take some time to tune in to the spirit world and make more of an effort with your daily spiritual practice. By doing so, spirit will offer you guidance, courage, motivation, hope and peace. Meanwhile stay calm and safe. Life will be getting better soon.

About The Author: Lucinda

Lucinda is a highly trained Intuitive and Empath, living in a beautiful village in North Yorkshire, England. She possesses the rare gift of understanding a client's personal pain and has been through many challenges, herself, which has only made her stronger! It is both her calling and her happiness to help those in need. And whenever she needs a little help herself, her Guides are always there to assist in her development and provide clear interpretations for her clients. Prediction has always been a great tool she could count on to accurately foretell events, but Lucinda also draws on her expertise with Dream Interpretation, Numerology, Angel Cards, Law of Attraction and Life Coaching to provide full and detailed solutions to any problem. A member of AMORC and Beyond Freedom Evolution, she provides inspiration, education and personal support for spiritual development. If you'd like answers or want to attract your desires, you can find Lucinda at PsychicAccess.com.