Promise Of The Stones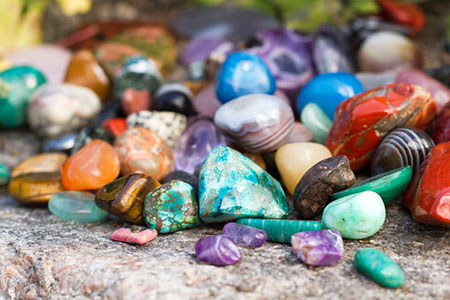 Those of us who find ourselves drawn to stones or minerals are called to be servants of the soul of the world. Our teachers, showing us the way to do this, are the stones, and what they have to teach is far, far beyond anything we can possibly imagine. The stones are spirit beings who through millions of years of development are embodied with great healing and wisdom.
Rocks, minerals, crystals and gemstones are known in traditional shamanism as "the stone people." They are the original beings of who came long before the plant people, standing people (trees), animal people and the human people. Philosopher Alan Watts said in one of his talks, "Rocks are not dead…minerals are a rudimentary form of consciousness."
For this reason, they are much older and wiser than us humans and we can learn much from them, especially when it comes to energy work and healing.
The spiritual-metaphysical properties of stones are the promise, as spoken by the stones, of what could happen if we approach them as living beings. It is their promise and has to be heard and felt on their terms, not in the terms of our personality needs.
For example, if a stone promises prosperity, to take that offering literally is to abuse the meaning of the stone, for 'prosperity' spoken in an intimate relationship cannot possibly mean "you are going to make me materially rich." If I say to a dear friend, lovingly, with all my heart, "I wish you prosperity," I am not saying, "You will become materially wealthy because we are related!" What I am saying is that because of our intimacy, your soul will prosper and the world will shine brighter.
There are plenty of ruined buildings in the world but no ruined stones ~ Hugh MacDiarmid
Just as the human being emanates an electro-magnetic field, so too do the stones. However, I never relate with another person as soul being in terms of an electro-magnetic field. The attempt to be scientific can obscure the mystery of our meeting, in an effort to make it more acceptable to those who cannot understand loving a stone.
There is the unmistakable presence of a 'who' that accompanies every stone with which we establish a relationship. It is time to roll stones or minerals out of the spiritual closet and see the unique soul within each and every one of them.

About The Author: Mountain Sage

For thirty-six years, Mountain Sage has been providing her much sought after insight, coaching and spiritual counseling to clients locally, as well as internationally. Many other psychics, spiritual counselors and healers, professionals, celebrities, and individuals of all backgrounds, have relied on her gifts to find their way through muddled times. Mountain Sage is the student of an exalted Gurugi in Bombay, and Shaman of the Fireheart Sweat Lodge in Santa Fe, New Mexico. Her extensive training includes Oracle, Healing, Universal Laws & Principles, the Sacred Circle and Psychic Shielding. She specializes in Ascended Masters, Altars, and Minerals. She holds the great honor of Oracle Carrier by her tribe due to her outstanding psychic ability, passion for the psychic realm, integrity and sacred work. She blends mystical understanding with practical application, and her art is connecting with the Divine. Get a psychic reading with Mountain Sage at PsychicAccess.com.