Dare To Weave Your Own Tale Of Abundance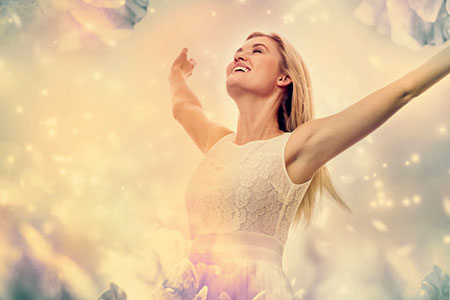 Most people are familiar with the Charles Dickens' 1859 classic, A Tale of Two Cities. Set in Paris and London against the tumultuous backdrop that lead to the French Revolution, the novel has been cited as the best-selling work of fiction of all time.
I reflect upon this intriguing work at this time, because the novel has been repeatedly referenced lately by the news media in an attempt to capture the spirit of social unrest and economic uncertainty that has disconcertingly become a global concern during the pandemic.
Over the last year, I have repeatedly asked myself the question, what is my personal 'tale of two cities?' Do I search for hope amidst the stories of the day, or do I succumb to the popular cacophony of dire warnings, fear-mongering, conspiracy theories and atmosphere of despair.
And so at this moment, I ask of you to take just a few minutes out of your day to ask yourself the same question.  Do we place our own dreams on hold because of the apparent tensions that consistently threaten to chip away at our mind and spirit each day? Do we flounder, or do we choose to thrive, moving beyond merely just surviving.
Many years ago, I overheard someone say that while tough times don't last, tough people do. I want to remind you that no matter how dire things may seem at the moment, trust that you have the power and right to create your own 'tale of two cities.'
In my personal story, amidst the turmoil and uncertainty of the day, there is order and certainty. History has shown us time and time again that no matter how challenging things seem, there is always a silver lining, and a bright-shining, magnificent light at the end of every long tunnel!
My mother often shared stories of how her family survived the Great Depression. My grandparents had a large family of ten children, and they lived in a rural area on the outskirts of a metropolitan city. As the 1930's ushered in severe economic and social challenges all over the world, many lost everything they owned, and many families became homeless.
The cause of poverty is not scarcity. It is fear and small thinking ~ Alan Cohen
My grandparents made it their personal mission to continue to cultivate their own food on their family farm, including enough to also feed many other struggling families in their rural community. Almost miraculously, the population of their farm animals quadrupled during the Depression. Their orchards bore more fruit than during the previous decade, and the milk and honey suddenly became abundantly plentiful.
Amazingly, my grandparents experienced abundance during a time of famine.  And on the heels of this extremely difficult period, my grandfather was also fortunate to be hired as an engineer by the federal government.
Throughout my dear mother's life, she enjoyed sharing this magical story, of how her family managed to survive the Great Depression, while feeding many others in their county. What she loved most about it was the personal testimony about faith and hope.
I could never tire of her story, although each time it was shared an intriguing new detail was added. The version that spoke to me most, and has remained a constant in my life, was how she likened the Great Depression to Charles Dickens' A Tale of Two Cities. Only, her comparison was of a metaphysical nature. My mother taught us that no matter what adversity one may face in life, there is always room for a new tale to emerge.
The key to abundance is meeting limited circumstances with unlimited thoughts ~ Marianne Williamson
Mom revealed that sometime in the early 1930s, just prior to the economic collapse, her father had lost his job. But just before this happened, my grandfather encountered a couple in an elevator, who handed him a copy of a pamphlet written by the late Charles Sherlock Fillmore, the founder of Unity, a noted church within the New Thought movement.
This was how my grandfather began to read what has since evolved into a popular monthly publication, the Daily Word. Finding a great sense of solace and encouragement from the teachings of Unity, my grandparents answered the call for prayer requests that was listed on the back cover of their Daily Word journal, and thus reached out to Unity for spiritual support.
As my mother often shared, with her lilting voice and wide eyes, within days of receiving confirmation that her family's prayer request had been received, her father was offered his coveted federal job, and the family saw no further hardship as a result of this amazing opportunity.
Over time, my grandparents began to share their personal story with others and handed out handwritten affirmations from the Daily Word to anyone who was interested. This became their very personal 'tale of two cities,' told and shared many times over throughout the Great Depression, and after.
Choose joyful abundance in your heart and be unbounded, free, and relaxed. Be relentless with your choice and you'll make your mark ~ Amy Leigh Mercree
In closing, I would like to leave you with a message of inspiration to bring into your daily thoughts and hopefully inspire you to create your own special 'tale of two cities.'
No matter how frightening or uncertain the future seems, dare to weave your own tale that invites light, love, peace, healing, sustenance, nourishment, and whatever you seek in abundance. Trust that your personal tale can be woven with you as the author. Make it a 'best seller' in your life.
Dare not to allow the world or others to define your story. Trust in Spirit, that against the backdrop of these tough times, your tale can have a most beautiful outcome, even beyond your greatest dreams.
For you deserve it, and so it is.

About The Author: Shawna

Shawna lives in the American Southwest and is a third generation Spiritualist and Clairvoyant. She recognized her own gifts at a young age, fully embracing her calling as a Clairvoyant, Medium, Spiritual Astrologer, Tarot Reader, Aura Reader, Water Reader, and Healer, training under the tutelage of some truly gifted mentors. Shawna utilizes her natural psychic gifts to help individuals navigate through personal challenges and discover the higher manifestations of their life paths. She's provided positive, spiritually responsible, and ethical readings in-person, over the phone, and online, and has read for clients in Los Angeles--at psychic fairs--and at the Crystal Gaze Spiritual Center, in Lakeland, FL. She is also a trained practitioner in Clinical Herbalism (University of New Mexico), Ayurveda Medicine (San Diego College of Ayurveda), and Reiki. Shawna has channeled messages for political leaders, celebrities, and has accurately predicted the outcome of national campaigns, as well as a big career opportunity for a talented actor that resulted in a Tony Award! If you'd like an enlightening and empowering, full-spectrum of guidance, you can find Shawna at PsychicAccess.com.