The Healing Power Of Herbs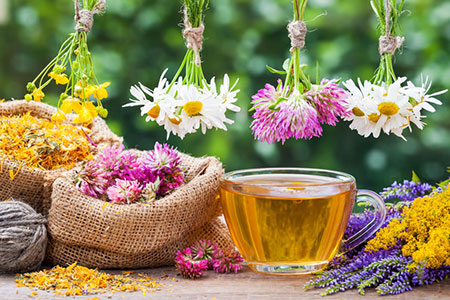 Herbs have a potent healing power that can help us in every area of our life. For every dis-ease or ailment there is usually an herb specifically designed to cure it.
I was originally drawn to the study of herbalism years ago, in search of ways to improve my own health and well-being. After many years of my own research, I decided to take a course to become certified as a master clinical herbalist, which included studying the energetics of herbs and not just their medicinal uses.
There are thousands of herbs on the planet, however only around 600 are more widely used and generally recognized. Just like people, herbs have their own personalities and unique energies.
For example, a skinny person with dry skin and tendency towards lower body temperatures can be placed into a category of 'cool-dry.' They would be more susceptible to certain conditions both from the weather and climate they're live in, as well as their core body temperature and mental-emotional state.
This type of individual might need some warming and lubricating herbs that will get their circulation going and energy flowing. Cardamom and Turmeric provide such warming qualities, while Licorice Root and Marshmallow are helpful to lubricate or provide moisture for someone who has very dry skin.
Herbal teas are one of my favorite methods for ingesting herbs for medicinal use. The other is tinctures.
For herbal teas, I have found maximum benefit by drawing the medicinal constituents out of the herb through herbal infusions and decoctions. Infusions are made from the flower or leaf of an herb, and typically involves boiling water and then turning off the burner, before adding your herbs into the water to steep for at least four hours. Personally, I like to leave them overnight in the water. For proportions, some herbal compendiums use ratios like 1:3, or parts, like one serving of herbs to three parts water.
By using herbs to heal, the very plants we walk alongside on the earth, we not only create empowerment within ourselves, but also identify and connect with dis-ease, allow it a swifter passage for greater healing to be made ~ Niki J. Senior
For decoctions, you are working with the bark, roots, or stems; in other words the 'heartier' part of the plant, which takes a bit longer to draw the constituents or active medicinal properties from. For instance, for liver support you could use Dandelion Leaf tea, but for a liver cleanse, you would use Dandelion Root tea. The root of the plant generally has much stronger medicinal properties and can penetrate the affected organ at deeper levels for increased healing.
For herbal decoction teas, you boil water and then leave the burner on, but turn it down to medium heat and add your bark, stems, roots, and so on. Allow it to gently simmer for about 20 minutes and then let it steep in the water for a couple of hours.
Some herbalists say that once they have boiled for 20 minutes on medium heat, they only let their tea steep for another 20 minutes, and then are ready to serve. This process depends entirely upon the herb, the illness, and the person you are treating.
Always consult your herbalist or preferred wellness practitioner before trying any herbs on your own.  Herbs can be immensely powerful and sometimes they are even contraindicated when using them along with certain pharmaceutical prescriptions.
Reputable herbalists and naturopaths are familiar with what is safe for you, and what is not.  You should also discuss your herbal regime with your healthcare provider. Even with the advice of a medical health professional, I always take a small dose to start out with to see how my body responds to a new herb.
Until man duplicates a blade of grass, nature can laugh at his so-called scientific knowledge. Remedies from chemicals will never stand in favour compared with the products of nature, the living cell of the plant, the final result of the rays of the sun, the mother of all life ~ T. A. Edison
Aside from upping your vitamin intake of A, C, and D, some wonderful immune enhancing herbs to support you through this winter season include Astragalus, Garlic, Ginseng, Elderberry, Echinacea, Rosemary, Ginger, Lemon Balm, Nettles, to mention only a few.
Lastly, herbs not only help with our symptoms, but also get to the core of why we became vulnerable to illness to begin with. There are not only medicinal properties to each herb, but also spiritual properties; the wisdom of which has been gathered by our ancestors through the ages and have been passed down for many generations.
Dandelion, for example, contains potent antioxidants, reduces inflammation and cholesterol, lowers blood pressure, promotes liver function and may even help with weight loss. However, it also offers the spiritual gift of granting wishes. Think of the custom of plucking a dandelion from the grass and holding it up to blow off the puff ball of seeds, in order to make a wish. Many of these so-called 'old wives' tales' do actually hold ancient secrets that still can enhance our lives today.

About The Author: Isadora

Known as The Psychic's Psychic, since 1998, Isadora has read for thousands all over the world, her impressive list including clients from the Obama administration, Fortune 500 CEO's and notable names in Hollywood. Her detailed (Gemini) accuracy is nothing short of astounding, with her ability to see people at the Soul Level and clearly answer questions on a wide range of subjects, from relationship matters, business decisions, to past lives, etc.—anything that requires clear answers and pin-point insight. She has the ability to identify hidden patterns that run beneath your current situation, providing you with information to positively change your future. If you'd like a reading with this compassionate, straight forward, laser-accurate and dedicated Psychic, you can find Isadora at PsychicAccess.com.