A Silver Lining In Times Of Uncertainty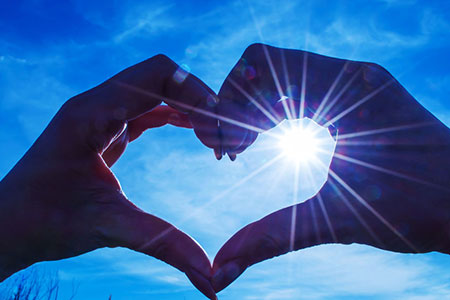 We grow in our spiritual awareness and insight in different ways. Some of us read spiritual material by great authors, for example, and learn from their wise teachings, while others meditate and go deep within for guidance, and so on. However, in my experience the most powerful catalyst for spiritual growth is a time of trauma or crisis.
With the Covid-19 pandemic currently raging around the world, many people have lost loved ones, income, savings, businesses and homes. These losses can be devastating, especially when children are involved. Many people are in grief, many are lonely and isolated. Normal life has been greatly curtailed for many, with no clear end in sight.
It has also been an extremely stressful, challenging time for our essential frontline workers and healthcare professionals. The novel coronavirus has affected everyone to some extent, and it is during such trying times that many of us turn to Spirit, or the God of our understanding, and ask: why?
In these times our faith in a higher power, in ourselves, and in our world at large, becomes even more pivotal to our mental health and personal well-being. Hope and faith give us the strength and courage to carry on another day, regardless of not being able to see the end result at the moment. When we dig deep, we can often find untapped spiritual and psychological reserves, that we were unaware we actually had.
Although living through a global pandemic is an experience our generation has not encountered before, many of us are rising to the occasion by helping others in person, online or by donation.
People are also transforming from within. Many are becoming stronger, more resilient and positive, knowing that they will be able to surmount this challenge, and even support others throughout the ordeal too.
When you believe in what you're doing and use your imagination and initiative, you can make a difference ~ Samuel Dash
Many are now finding innovative ways to be of service to others, or to replace lost income by transferring their skills to a much-needed product or service. They are being creative, using their ingenuity to develop and provide trailblazing products and services that were unheard of before. Many individuals and organizations are coming together to create encouraging global change.
It is incumbent upon all of us who are able, to do our part to the best of our ability. We must contribute in a positive way to the eventual resolution of this pandemic and help to make our future world a better place. Whether we send prayers and healing energy, give monetary donations, volunteer our time or skills, or support people in other ways, every little bit matters and makes a difference.
It is also important to have gratitude for what we do have, whether this is the love of family, a strong community, health and wellness, or the ability to make even a small difference. Maintaining a sense of humor can also be critical in these times of crisis. Sometimes a little comic relief goes a long way to relieve stress and anxiety. Yes, it's okay to have a laugh during tough times!
Anyone who thinks that they are too small to make a difference has never tried to fall asleep with a mosquito in the room ~ The Dalai Lama
Someday is the future, when we look back on these months of hardship and adversity, we will be able to connect the dots to finally see the many lessons we have learned, and the many inroads of wisdom we made along the way. We will see how even our most humble contribution made a difference, whether to one individual or to many. And will realize how we were still able to grow and expand, despite our fear and worry.
As long as we do our best every day, with whatever we have to offer, we can be a bright silver lining in these times of uncertainty. So, what will you be contributing to the greater good today?

About The Author: Monica

"What you think about, you bring about; what you believe, you become." This is Monica's philosophy, derived from her twenty-five years of experience as a Clairvoyant, Light Worker and Medium, living in Ontario, Canada. Monica has been a guest speaker at various Spiritualist churches, conveying Spirit greetings and messages from loved ones during Sunday services, All Mediums Nights, Healing Services, Meditation Services and special fundraising events. She's been an advisor to several international business leaders and connects with all of her clients on a level of love light and empathy. She delivers messages containing ideal outcomes and positive solutions with the help of her guides. If you'd like Monica to help shape your destiny, you can find her at PsychicAccess.com.