The Virus That Brought A New Lease On Life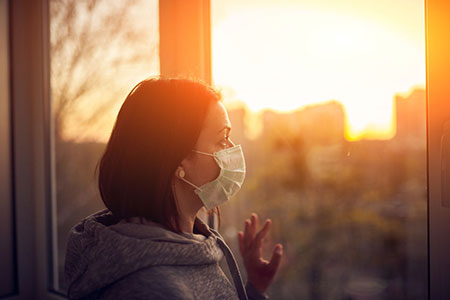 I have been asking spirit to help me better understand the deeper meaning of the COVID-19 virus emerging at this time in human history. This is how it has been explained to me.
The surfacing of the novel coronavirus is unfortunate, and in many ways tragic, but it also has value. It is teaching mankind many important spiritual and life lessons, including the value of slowing down, appreciating life, and loving each other more.
Modern society has been rapidly expanding and moving increasingly faster and faster since the 1918 influenza pandemic – the most severe pandemic in recent history. In our modern world we have grown accustomed to constantly rushing, and we seldom, if ever, take time to stop and smell the roses.
My spirit guides showed me that it is like a car driving over the speed limit all day, every day…until it burns out. We have been speeding through life. Rushing here, rushing there. No time to rest, no time to prepare healthy food, no quality time with our loved ones, no gratitude or appreciation for the blessings we receive, and also no respect for Mother Nature.
The Divine Creator decorated this place we call home with some pretty amazing scenery and life forms: oceans, mountains, forests, rivers, deserts, wild life and beautiful flora. Yet, we choose to speed by without noticing much of it.
There may be much darkness ahead, but we will rise from these ashes like a phoenix of light in a way that hasn't been experienced on this planet since the last enlightenment period ~ Guy Ferdman
We have forgotten the old ways of enjoying life, and appreciating family. We have moved away from living in harmony and balance with nature. We no longer care for our elderly, and we have stopped playing with our kids. We have forgotten how to comfort others and how to be kind and compassionate. We have lost our patience. Very few of us still know how to enjoy the beauty of a sunset.
Of course, there are those who have not forgotten or abandoned the old ways of a quality life, but most of us have increasingly moved into the fast lane over the past century. And there has been nothing, and no one, that could get us to slow down – except this new virus. And this it did.
The entire planet has been forced to slow down. And we have all been forced to take a step back and reconsider our priorities, values, beliefs, and our relationships. We have had to reevaluate the quality and purpose of our lives. And there has been time for magical sunsets again, as well as a newfound respect for the power of the natural world.
There are moments when troubles enter our lives and we can do nothing to avoid them. But they are there for a reason. Only when we have overcome them will we understand why they were there ~ Paulo Coelho
Spirit says in time we will get most of our world back, and when we eventually do, hopefully we will remember these difficult times and the lessons it has been teaching us. May we continue to savor our journey through this wonderful life, instead of trying to see how fast we can get through it!
This pandemic offers all of us the opportunity to turn things around, and give ourselves and our planet a new lease on life. If we don't slow down now and change our ways, future generations will follow our lead, further increasing the speed of life to a devastating pace, rushing around on a planet that has been stripped of all its beauty and natural resources. Is this the tragic legacy we wish upon our children and grandchildren?

About The Author: Krystal

Krystal's psychic talents with people and animals are as remarkable as her non-psychic adventures. Divinely gifted with multiple avenues for reading energy, she's hosted TV and radio psychic shows that quickly skyrocketed to #1. She has read for musical celebrities, provided lectures and is an Ordained Minister who has performed marriages and eulogies. She was also the first female race car driver, holding 4 titles, her accomplishments immortalized in a book! For over 4 decades, she has connected with her Guides, receiving visions and info from just the sound of a client's voice, and she's taught many devoted pupils to tap into and harness their own special gifts. From her dream home in Ohio on 200 acres that house a menagerie of animals, including mini-horses, Krystal can be found whittling walking sticks on her porch that tell a person's life story, and her readings will hone in on your unique life story, providing clarity on any concern. She brings balance, love, and healing, not to mention love and light to your life path. She has 12 natural spiritual gifts that require no tools to get the message across. Her guides offer detailed insights on all you need to know at the moment you enter her session. If you would like a reading with a psychic prodigy who's been reading since the age of 5, you can find Krystal at PsychicAccess.com.