Astrological Forecast October 26 – November 1, 2020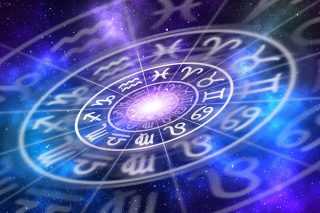 As Halloween approaches, we'll have two significant astrological events to move us through the week, beginning with Venus' move into Libra on Tuesday, and culminating in a Hunter's Full Moon in Taurus on Saturday. This rare second Full Moon in the same month is also known as a Blue Moon. Keep in mind that the Moon has an obvious effect on us as it waxes full this week, and in Taurus it will remind us to honor the beautiful things in our lives and appreciate all those who we share our worlds with.
With Mercury still retrograde, it's important to pay attention to those mixed messages and use the Scorpio Sun to filter out what's true and what's merely an illusion. We may not get much done under Monday and Tuesday's Pisces Moon, but that will shift on Wednesday and Thursday as the Moon charges through productive Aries. The weekend closes out under a Taurus Moon, calling for us to attend our most physical needs and financial balances. It could be a good time for a garage sale, as the full Moon promotes release, and the Scorpio Sun inspires ingenious ways to make a little extra money.

About The Author: Susyn

Susyn lives in New Mexico, and offers Psychic Guidance, Astrological Insights and Channeled Messages that will change your life! Her credentials are top-notch and include a doctorate in metaphysical studies and certifications from The American Association of Professional Psychics and The American Tarot Guild. She's also a published author, with two metaphysical books under her belt, and has authored numerous articles and horoscope columns. In addition to her readings, Susyn is also a mentoring practitioner who teaches others how to master their own gifts, raise their vibrations, and empower themselves. A sought after guest on numerous radio programs, she has also hosted her own radio show. If you're looking for one of the truly bright shining stars who can also read them with an accuracy that will astound, look no further. You can find Susyn at PsychicAccess.com.