Dragging A 'Knapsack Of Irrelevance'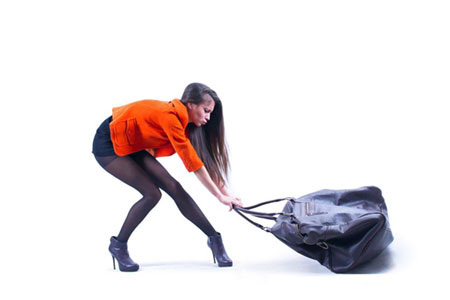 Reading for a client recently revealed her toxic work environment, and how one co-worker in particular was making things very unpleasant for her at the office. It reminded me of a short-lived, but very unpleasant working situation I found myself in years ago.
I was scheduled to work with a woman for a couple of weeks who had an extremely negative attitude and was having a profound effect on me. I shared this unpleasant situation with my boyfriend at the time, and his view was that I was just carrying around a 'knapsack of irrelevance.'
I was so upset! How could he even think that? However, he did give me some food for thought when he then also said, "Just consider how you will think about this situation in a few years from now. How much will it matter then?"
Well, that did help to put things into perspective. And guess what? Just as he predicted, I forgot all about it until this recent reading with my client! Yes, he was correct. After all the years, remembering that brief work situation made me realize that it never had any major relevance or importance to my life. Stressing and worrying about it was indeed just a waste of time and energy.
I met this particular ex-boyfriend in the fellowship of Alcoholics Anonymous (AA). He was very well-versed in the twelve steps and other tools helpful in achieving and maintaining sobriety. He also gave me an Alcoholics Anonymous pamphlet, which I have to this day, which reads:
Worry never robs tomorrow of its sorrow, it only saps today of its joy ~ Leo F. Buscaglia
Humility is perpetual quietness of heart. It is to have no trouble. It is never to be fretted or vexed, irritable or sore; to wonder at nothing that is done to me, to feel nothing done against me. It is to be at rest when nobody praises me, and when I am blamed or despised, it is to have a blessed home in myself where I can go in and shut the door and kneel to my Father in secret and be at peace, as in a deep sea of calmness when all around and about is seeming trouble.
Many of us tend to dwell on our past mistakes, or we obsess over how we could have handled a certain situation or person differently. However, I do believe we did the best we could at that particular moment in time. As long as we learned from that experience, it's all that really matters. After all, according to many spiritual teachings, this world is our schoolroom and learning from challenging life lessons is what counts along our journey.
I have just been cleaning and dusting my house. Living in the slightly arid Spanish countryside, with many pets, can make cleaning feel like a thankless, endless task sometimes! But it does feel great once it's done. But by tomorrow, literally speaking, the dust will be back.
When I look back on all these worries, I remember the story of the old man who said on his deathbed that he had had a lot of trouble in his life, most of which had never happened ~ Winston Churchill
What I have learned though, is not to beat myself up if I miss a day of cleaning, because the animals don't seem to care and the visitors who have come to see me really don't care at all. And you know what, in a few years from now, it won't make the slightest difference whether I did those chores every day, or not!
I am not making light of what is troubling you right now, but think back a few years to something that was bothering you deeply at that time, or to an upset or heartbreak you experienced back then. It is very likely the pain will have eased by now, and it will even be a distant memory, if a memory at all. So, think about it. How much will your current concerns truly matter a few years from now?

About The Author: Shani

Shani is a qualified practitioner in Reiki, aromatherapy, reflexology, body spin, and animal telepathy who received psychic development training at the Arthur Findlay College of Psychic Research in England. A published writer, her articles and predictions have appeared in several respected magazines and on psychic websites, and she has read for many celebrities and even heads of state in Africa. Though she was born in London, Shani has traveled the globe and has studied the art of African Mysticism, bringing her unique flavor to those seeking her incredible talents. Get a reading with Shani at PsychicAccess.com.