Forgiveness Is The Solution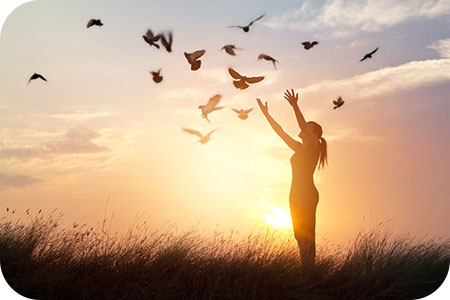 Forgiveness may be the path to a truly happy and fulfilled life. In his book The Forgiveness Solution, Dr. Philip Friedman puts forth the idea that all our emotional concerns, such as judgment, anger, and grievance, come from our inability to forgive. When we hold onto this emotional baggage, it harms everything. Hurt people hurt people. Taken to the extreme, it may lead to self-harm, or harm to others. But there's a way out of this vicious cycle.
The first and most important step is to learn to forgive ourselves and develop, what Dr. Friedman calls 'self-regulation skills.' In essence these skills are defined by the classic Serenity prayer for courage to change what we can, acceptance of what we cannot change, and the wisdom to know the difference. In addition, becoming wholly healthy, physically, emotionally, and spiritually, will better allow self-forgiveness.
When we engage in our daily spiritual practice, we should ideally include a mantra about forgiveness. It may take a while for the idea to take root. Habits take about 30 days to become routine, but after you've begun to forgive, you can let the pain go by the wayside.
Keeping a positive attitude is essential to the process of forgiveness. This doesn't mean that you have to be happy all the time. What is does mean is that setbacks and obstacles are regarded as challenges to overcome, rather than insurmountable hurdles.
Have you ever taken the time to make a list of all the things in your life you're thankful for? When you practice an attitude of gratitude, you'll start to see that there are many more assets in your life than you may have thought. Even the aspects of your life you've come to resent, such as a difficult relationship or a challenging job, can be seen positively in the right light.
When you hold resentment toward another, you are bound to that person or condition by an emotional link that is stronger than steel. Forgiveness is the only way to dissolve that link and get free ~ Katherine Ponder
At the same time, if part of your life has become toxic, it's okay to let that go. If you do this, be sure and forgive rather than holding a grudge. It's a lot easier than carrying around that emotional burden.
In our quest for forgiveness, it's crucial to understand our connection with others. Social bonds are part of what makes us human, and everyone you meet is struggling to forgive something or someone. Perhaps it's you! Nobody's perfect. Start listening to those around you when they communicate their needs and desires. Open up mutual dialogues, and don't be afraid to tackle the difficult topics. Chances are, they're struggling with many of the same challenges as you.
The heart of forgiveness, as Dr. Friedman reminds us, is our own spiritual inner light. Whether we choose to call this our own Higher Power or the connection we have to the Universe, it is at the deepest part of all of us. Learning true forgiveness allows this light to shine brightly. When we do, and we experience real love for ourselves and those in our lives, we learn what it truly means to be alive and enjoy life.

About The Author: Mystic Shelley

Mystic Shelley is a Psychic Medium. She has been reading for over 15 years helping and guiding people. She uses my 8 spirit Guides during her readings. She reads in the area of love, relationships, career, money and all matters of love. She will give you only honest and direct answers. Get a reading with Mystic Shelley now at PsychicAccess.com