The Longing To Connect To Source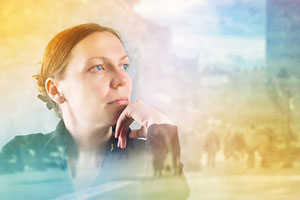 Stress, whether it manifests as physical, emotional or spiritual, is a major factor in the depletion of our energy, resulting in us going out of balance. Meditation is a tried and trusted way of dealing with stress, raising energy and bringing balance. It is also favorable in achieving some other wonderful outcomes, including the direct experience of our connection to the unified field of intelligence, or "the void."
The past two weeks have been considerably hectic for me, and I've missed my daily meditation. Meditation is instrumental in helping me feel aligned in body, mind and spirit for the kind of work I do, not to mention, assisting in dealing with the current chaos in my life!
If your goal is to avoid pain and escape suffering, I would not advise you to seek higher levels of consciousness or spiritual evolution ~ M. Scott Peck
If all else fails I at least have my shortcut mantra: "I am connected to the Source of my Being". I would never recommend that this should become a replacement for the benefits of proper meditation, it's a helpful temporary measure. It is a quick-fix I can repeat over and over as I walk my dogs.
It's so good when we begin to heal and we are suddenly aware of the change. It's that wonderful "Wow, I feel better" moment. Whether it's physical, emotional or spiritual, getting back into balance is marvelous. There are those of us who are consistently in balance and rarely experience that "I feel better" moment. I'm happy for all of those who enjoy wellness throughout their lives. Health practices, right living, right thinking, self-protection, plus maybe just a bit of genetic good luck, can go a long way toward an illness-free life.
Yet, I know there are plenty of spiritually-minded, beautiful and loving people who experience anxiety, constant stress, disease, addiction, depression, age-related discomfort. We potentially face all sorts of impacts from growing up and living in an 'energy-hostile', conditioned, programmed, toxic world. What peace and oneness we may know at birth, we soon forget as the dis-ease of this earthly experience takes over. We begin to do as we feel we are supposed to do, or as we are sometimes forced to do, and we ultimately experience harm to our true selves and to our physical bodies. In time we start to know discomfort, we start to retreat to the back room of longing.
Meditation is the dissolution of thoughts in Eternal awareness or Pure consciousness without objectification, knowing without thinking, merging finitude in infinity ~ Voltaire
Could it be that the oneness that we knew at birth never did leave us? Maybe it stayed in that back room of longing as a nudge to move forward – a spiritual need? I believe so. Somewhere deep inside we have always heard the sound of the void, and that is what helps us shape our reality. We long to connect to the source of our being.
There is a natural inclination within us to be healed from the onslaught of a world not so friendly to consciousness. Something loves us, something wants us to be in balance, and it must be our own I Am.
If we are energy-depleted, or out of balance, we cannot accept what we are, forgive ourselves, love ourselves and decide to change. Healing involves a change of heart, which is intention; followed by dedication, effort, commitment, and belief.
Belief is an essential element of any change. Believing the change has already occurred is key. Trust yourself. The circumstances you imagine already exist.

About The Author: Shani

Shani is a qualified practitioner in Reiki, aromatherapy, reflexology, body spin, and animal telepathy who received psychic development training at the Arthur Findlay College of Psychic Research in England. A published writer, her articles and predictions have appeared in several respected magazines and on psychic websites, and she has read for many celebrities and even heads of state in Africa. Because of her empathy, people find it easy to connect with her. Every month, she attends a psychic circle and the information that comes through from Spirit never ceases to amaze everyone present. Though she was born in London, Shani has traveled the globe and has studied the art of African Mysticism, bringing her unique flavor to those seeking her incredible talents. What she has taken away from her many travels abroad, is that there is always a sort of longing clients have to be connected to the source of their being. Get a reading with Shani at PsychicAccess.com.


2 Responses to The Longing To Connect To Source