A Life Lesson From My Favorite Angel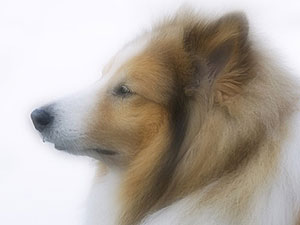 Recently, I found out that my favorite angel is suffering from cancer and was given six months to live. Of course I was devastated and my heart was broken. This dear, angelic friend just happens to have four legs, a sable and white coat… and one blue eye. In her physical form she's a Shetland Sheepdog, more commonly knows as a "Sheltie", but she is also one of the most powerful healing energies I've had the privilege to encounter in this life.
As an animal lover I've always known pets are special and they come into our lives for various reasons. Dogs especially are founts of unconditional love and they give us an opportunity to be guardians of the highest caliber. They are teachers as well as companions, soothing our spirits, lifting our emotions and many times teaching us patience and leadership. They are quite simply extraordinary beings.
If there is a heaven, it's certain our animals are to be there. Their lives become so interwoven with our own, it would take more than an archangel to detangle them ~ Pam Brown
Six years ago I was in a major transitional vortex. I was in the middle of a divorce and I had moved, leaving behind my beloved home. I made a decision then to devote myself full-time to my true life's purpose. During this time I lost several friends who quite simply thought I was nuts for making all of these choices. It was a very painful time and my being an empath only doubled the discomfort.
During this time of personal transformation, I met Haddie and we became fast friends. I began to "borrow" her from her pet parents and she spent many weekends with me, sometimes staying for the week. She never met a stranger and soon everyone in the neighborhood looked forward to her visits, including people who didn't normally like animals or simply weren't dog people. Over the past six years I've watched her work her magic on people time and time again.
This little bundle of furry wisdom timed it in such a way that I was the one who took her to the vet the day we got the diagnosis. I knew something was very wrong, I just didn't want to hear it. And I most certainly didn't want to tell her guardians. I knew that she was trusting me with this task, and also to help make decisions that were in her best interest physically, so that she could be as happy and comfortable as possible. I was determined not to let her down. It was time for me to give back and show her that her trust was well placed.
I managed to hold it together at the vet's office, then calmly drove home and got her settled in. Then I went back to sit in my car and had a complete emotional meltdown. Not just tears, I was angry, very angry. Yes, physical death comes, it's transitional and in my work I've seen grief in all of its phases. I kept telling myself this, but the pain and anger washed over me in waves and I couldn't stop it.
Dogs are our link to paradise. They don't know evil or jealousy or discontent. To sit with a dog on a hillside on a glorious afternoon is to be back in Eden, where doing nothing was not boring – it was peace ~ Milan Kundera
I finally dragged myself out of my car and headed back inside, when I saw her standing at the glass door staring at me very intently. I'd never seen her look at me like that before. I went inside and she got on my lap and continued to stare at me. She was trying to tell me something important and my grief and anger were blocking it. I took a deep breath and said, "Okay girl, what is it you need me to know?" The message I got was simple and very clear.
I'm still here. Right now, I'm still here and you are missing it! I'm happy and I still have work to do, and so do you.  Celebrate my life, honor me, be with me now. Don't miss one minute of my love. Live now with me.
It's now eight months later and she's still here! I'm not surprised, but I am very grateful. I wake up in the morning now not worrying about what might or might not happen, not focused on moments of disappointment or anger from the day before. Life is about transience and transition, and she reminded me how important it is to just be in the moment. I don't want to miss any of it.
I'm excited about what this day will bring. Who I will have the opportunity to be of service to today?  As for my favorite "angel", when it is her time, and if it's her choice, I will be honored to be by her side. We're both still here, we both have work to do and I want to make my favorite angel proud.

About The Author: Angelic Heights

Empathic, intuitive, psychic from a very young age, Angelic Heights (Gail) learned well the importance of using her gifts for the highest good. Marriage and a career in the paralegal field occupied her until her early 30's. Accurate, compassionate and direct, her focus now is entirely on enlightening, uplifting, inspiring and guiding those who seek her counsel. Gail believes that it is as critical to understand the energy of the people we choose to be involved with. Regardless of the nature of the issue, whether it be romance, career, business, or family, the essential needs of every client always come through clearly in her readings. She is able to hone in very quickly on major concerns and deliver accurate messages and solutions to problems. Get a reading right now with her at PsychicAccess.com


This site uses Akismet to reduce spam. Learn how your comment data is processed.