Dream Lovers On The Astral Plane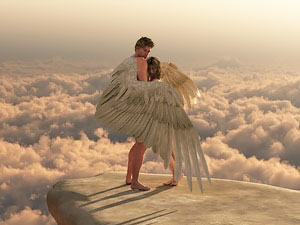 Do you record your dreams? If not, you should! Why? Because, as many people all over the world have discovered, recording or writing down your dreams helps you in too many ways to count.
In our dreams we have visitations from people from our past, glimpses into past lives, moments with loved ones who have crossed over, and even encounters with family members and friends who are still very much alive. In the dream state we can communicate with everyone that we have ever known.
Dreams often reveal messages and insights that we would not have considered or thought of on our own in the awake state. We touch base with our unconsciousness while we are in the healing dream state. Our soul has a conscious intelligence that communicates with our brain what we need to know. There are reason why we dream.
Dreams are today's answers to tomorrow's questions ~ Edgar Cayce
Some people claim they don't dream or remember their dreams, but we all dream. Some of us don't remember our dreams, because we willfully do not want to remember them, or practice at getting better at remembering them.
You can improve your dream recall in the following ways:
Moonstones – Get one moonstone and put it under your pillow and watch what happens. It's like having really good bait on that dream catcher … to reel in those dreams. Yes, it really helps and is wonderful tool for helping you to remember your dreams.
Routine – Go to bed every night at the same time, allowing yourself to enter into that restful state where you can dream! I like to go to bed or try to at nine every night and I am up by six o'clock. Sometimes I can remember up to four or five different dreams. I have become so good at recording them, I am amazed at how many of my dreams are warnings or a heads up on things that actually come to pass.
Hydration – Drink lots of water during the day. I call it "brain juice". You want to keep not only your body, but also your brain hydrated. I noticed this helps a lot with dream work. Absolutely, drink more water if you can!
Meditation – Spend time in quiet solitude every day to meditate. Make sure you have plenty of time for this, because it is the best way to hear your own inner dialogue. You don't want to be inundated with the chaos and drama of the world before bed or during the day.
I was inspired to write this blog because one of my clients, who claimed that she doesn't dream, started dreaming so good after I gave her these tips.
Dreams are illustrations… from the book your soul is writing about you ~ Marsha Norman
She is what she calls a "hermit" and a "shut-in". She doesn't go out, because she suffers from vertigo and panic attacks. She is single, and although she really wants to be in a relationship, she has now opted to have those experiences while she is sleeping through her dreams.
She says that she has a "dream lover". It's a relationship that she experiences only when she dreams. It's the same man every time, someone from she believes is from a past life. It's very real to her.
I did see that this is a man who was reincarnated and lives on this same planet as her, but they haven't met yet. She dreams of him, while he dreams of her. They dial each other up every night with the sheer desire to do so. I call it "ESP email". They meet up in the astral realm.
I dedicate this blog post to her and everyone out there that dreams of past loves that still come to visit with them, and people who dream of their future lovers, husbands, and partners.
Our ability to dream allows us a freedom that we may have never before realized, until we look at it from a new perspective. Dreaming is meaningful and exciting! You can say things or even do things with people that we may otherwise may not be able to do in the awake state, and gain that soul growth and soul evolution that way.
So, grab a moonstone and embrace those dreams. They can be very exciting and inspire you to continue recording your dreams. Happy dream weaving.

About The Author: Moon Goddess

Moon Goddess is a third generation empathic healer and seer. She started to give healing readings to people more than 20 years ago. She has always been interested and studied all things metaphysical from a young age. Being hypersensitive she can feel and see things before they happen. Utilizing the Tarot, and with the help of her Guides, she is a source of support for many people all over the world. After he passed over, her grandfather kept his promise and came back to say goodbye and gave her the most amazing experience. Moon knows there truly is a Heaven, and it is wonderful! Sharing her experience has helped many people after they have lost someone, or anyone experiencing some form of grief. Get a reading with Moon Goddess now at PsychicAccess.com.


This site uses Akismet to reduce spam. Learn how your comment data is processed.