A Treasure In Every Intuition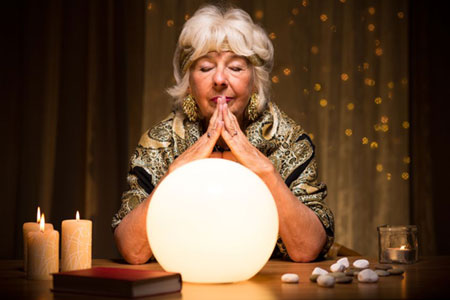 Living a life tuned into God's grace, through my intuition, never ceases to amaze me. It is ever-adventurous – never old, dull, or flat. Why is it so exciting and fresh to me? Because every moment is in the moment. Each sign, sense, and gift is unique, individual, and reciprocal. At every step there is potential to experience the unexpected – something magical, mystical, miraculous, unpredictable.
Unpredictable? Isn't that what psychic ability is all about – being able to see and predict the future? Not necessarily. Intuitive gifts come in many diverse shapes and forms – as many as there are people. Some have the ability to foresee things before they happen, but not all psychics receive such predictive vision, and even those who do, aren't necessarily shown all things, in all detail, all the time. It is a gift, up to the Source and Supreme Gift Giver to grant.
What makes an intuitive life richly rewarding, and conducive for helping others, is the openness to receive and transmit what is divinely placed in one's awareness, beyond the ordinary range of sense perception. Every genuine reader has something beautiful and meaningful to offer. As there is a multi-dimensional reality, so are there a multitude of angles from which truth may be revealed to one's intuitive sense of sight, sound, and touch.
Consulting with too many different readers can produce confusion, due to variations in the information received. Most often, however, these differences can be reconciled with deeper, discerning insight to understand how they weave together, to create an enriched texture of awareness of the many layers, sides, and subtleties of a subject.
We each have a sixth sense that is attuned to the oneness dimension in life, providing a means for us to guide our lives in accord with our ideas ~ Henry Reed
When consulting an intuitive, diviner, psychic or medium, I find it very helpful to recognize the specific strengths and specialties they are personally gifted to offer. At what level of reality do they receive, especially strong psychic access? Are they being shown detailed information of what is occurring on the physical plane, or are they given more to see from a spiritual perspective? Is their strong suit to sense energy and emotions? Is their gift the ability to sharply perceive what is, or are they primarily endowed with hindsight, such as reading past lives, or the foresight to predict what will be?
Even when a reader is blessed with a combination of any, or all the above psychic abilities, one gift may be speaking more strongly at one time than another throughout the course of a single reading. In my experience it is immensely valuable to bear this in mind and feel into the full picture when receiving what is being communicated.
Connecting on any extrasensory level is a very personal art and relationship with whoever or whatever one calls upon to channel the insight. I am inspired by the variety of distinctive ways in which intuitively gifted individuals tune in, or reach out to receive the psychic wisdom they pass on. Psychic tools, or no tools, there is no one-size-fits-all way or style of reading.
One person may gain access through the sound vibration of a name and download profound information a s result. Another may, just by the sound of your voice, perceive the identities of important people in your life and gather perspective from there. Some may pray in movement, hold cards to their heart, close their eyes, touch a near, dear object, scribble random notes and doodles, stare at a candle, or gaze into a reflective surface. The assortment of examples are endless.
The universe is a giant mind. Some people have the ability to tap into that mind, we call them psychic. Others don't, we call them dull…but they have potential ~ Frederick Lenz
We may not see what a reader is doing, when we call them by phone, but if we listen carefully, we may be able to hear and appreciate what is characteristically cherished in their personal spiritual connection… and be grateful they are willing to open their heart, and share it. It may or may not match what we are looking for, or what resonates with our own individual heart in a reading. And that is okay.
One size doesn't fit all callers. But in all cases, there is opportunity to be awed and delighted by the divine realm of grace that bestows such an array of unique and extraordinary gifts to guide our way in this world and grant us a glimpse beyond. That is what I love about living a life attuned to God's subtle cues and wonders of intuition.

About The Author: Lotus Grace

Grace is the epitome of her name, having endured a troubling childhood that paved the way for an adult, gentle, energetic grace that she now delivers to others through the gifts of movement, dance, and through her many intuitive gifts that she shares with her clients. For 30 years, this Hudson Valley, NY State resident has cultivated a unique way of helping others, drawing upon God as her best friend, advisor, and the all-encompassing force that is the bedrock of her faith. Her journey has led her to heal and grow through the mud of life and compassionately support others to do the same. She's immersed in the world's diverse faiths with a core that is deeply rooted in more than three decades of immersion in the spiritual practices and wisdom of devotional lineages. Her inner relationship with God/Spirit has deepened the intuitive sights, sounds, scents, and senses that unfold profoundly when she dances. Since 2004, Grace has run a spiritual healing arts and dance sanctuary, where she intuitively nurtures children, teens, and adults. In her client readings, she taps into her Empathic, Clairvoyant, Clairaudient, Intuitive healing to help clients access the divine guidance they need. If you're searching for a little added Grace, spiritual energy, and the answers you need, you can find Grace at PsychicAccess.com.


This site uses Akismet to reduce spam. Learn how your comment data is processed.