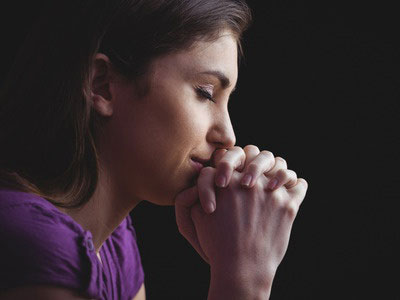 Some people wonder if praying for loved ones who've passed has any affect on them. Do they hear us? Does it make a difference in their transition to their new plane of existence?
I truly believe that praying for our deceased loved ones has a positive effect on them, and that they deeply appreciate it. We can always connect with the spirits of those who have passed, though it is sometimes difficult to know if they can hear us. Whether we pray for them, converse with them, or simply grieve for them, we are connecting with them on a spiritual level.
If the people we love are stolen from us, the way to have them live on is to never stop loving them ~ James O'Barr
Some people believe that when we die, we cross over into a realm where all our problems are instantly solved, or left behind on the earth plane for others to deal with. Nothing could be further from the truth. If we pass with unresolved issues, negative feelings, resentments or regrets, we will be required to continue working on them in the spiritual dimension.
It is helpful to send departed loved ones our prayers to help them with all of this. Though health and financial problems have been left behind, emotional and spiritual ailments still need to be healed. Keep in mind that it is more difficult to work on these issues from the other side, so our prayers for our loved ones are greatly appreciated.
I like to think of a prayer as a ball of energy. When we say a prayer for someone else, we ask for things that would be in their best interest. Every time we channel our attention toward something, it grows stronger. This is how our prayers help people who have crossed over to move forward – our prayers give them a sense of strength and energy so that they can do what they need to do.
Praying for the dearly departed is no different than praying for someone in a foreign country who is fighting a war, or a loved one at a distance who is suffering from a health problem. Whether they can see or hear us, or not, the prayers we send help them in ways we might never imagine.
We talk about heaven being so far away. It is within speaking distance to those who belong there ~ D.L. Moody
If you have recently lost a loved one, you are most likely praying that they have made it to the other side safely, and that they are all right. You can rest assured that any health problems and physical pain they suffered have been completely left behind. If you know of other specific concerns, you can focus on those. For example, if they left unfinished business with a loved one, or were in conflict with a relative when they passed, you may want to pray that these issues of the heart are resolved.
As you pray, remember to include moments of silence in your thoughts, for often our loved ones will reach out and try to communicate with us when we are focusing on them. You may be surprised at what they have to say!
While our friends and family who have passed away do know that we love them, through prayer, we can actively remind them of how much we treasure and miss them.

PsychicAccess.com.


Susyn lives in New Mexico, and offers Psychic Guidance, Astrological Insights and Channeled Messages that will change your life! Her credentials are top-notch and include a doctorate in metaphysical studies and certifications from The American Association of Professional Psychics and The American Tarot Guild. She's also a published author, with two metaphysical books under her belt, and has authored numerous articles and horoscope columns. In addition to her readings, Susyn is also a mentoring practitioner who teaches others how to master their own gifts, raise their vibrations, and empower themselves. A sought after guest on numerous radio programs, she has also hosted her own radio show. If you're looking for one of the truly bright shining stars who can also read them with an accuracy that will astound, look no further. You can find Susyn at