Soulmates Are A Divine Grace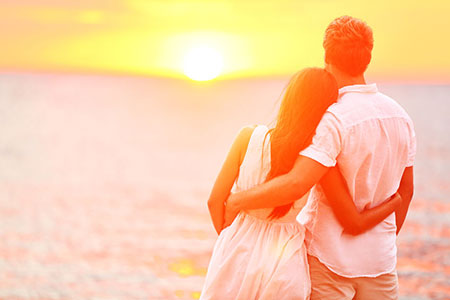 Soulmate connections are a very real and powerful phenomenon, but many people find it difficult to determine whether someone truly is a soulmate, or not.
In my experience a soulmate is someone to whom we feel deeply connected, as though the communicating and communing that take place between you were not the product of intentional efforts, but rather a divine grace.  This kind of relationship is so important to the soul that many have said there is nothing more precious in life.
We may find a soulmate in many different forms of relationships and in all areas of our lives, including friendship, marriage, work, family and recreation. We even find it with a delightful 'critter' – the pets we feel that special connection with.
Many times, when a soulmate first comes into our life, we have that feeling of familiarity as if we have known them before. Often, indeed, we have known them in a past life or many previous lives.
The famous American psychic Edgar Cayce stated that a soulmate is an individual who we have an ongoing connection with. The soul picks up on this longstanding connection with that person again and again in various times and places and over many lifetimes.
Most importantly, Cayce further stated that we tend to be attracted to another person at a soul level, because by being with that individual, we are somehow provided with "an impetus to become whole ourselves". This is also known as 'soul recognition'. We are therefore not drawn to our soulmate simply because that person is our unique complement.
Our soulmate is someone who shares our deepest longings, our sense of direction. When we're two balloons, and together our direction is up, chances are we've found the right person. Our soulmate is the one who makes life come to life ~ Richard Bach
According to the principles of universal law, everything has equal value to the universe. The universe constantly strives to stay in balance and everything plays a part. We sometimes find our soulmate when we least expect it and in the most unexpected of places.
The moral of this story is that you do have soulmates. Expect the unexpected and gravitate toward where your soul leads you. Don't underestimate the myriad opportunities for divine grace. You won't regret it.

About The Author: Mountain Sage

For thirty-six years, Mountain Sage has been providing her much sought after insight, coaching and spiritual counseling to clients locally, as well as internationally. Many other psychics, spiritual counselors and healers, professionals, celebrities, and individuals of all backgrounds, have relied on her gifts to find their way through muddled times. Mountain Sage is the student of an exalted Gurugi in Bombay, and Shaman of the Fireheart Sweat Lodge in Santa Fe, New Mexico. Her extensive training includes Oracle, Healing, Universal Laws & Principles, the Sacred Circle and Psychic Shielding. She specializes in Ascended Masters, Altars, and Minerals. She holds the great honor of Oracle Carrier by her tribe due to her outstanding psychic ability, passion for the psychic realm, integrity and sacred work. She blends mystical understanding with practical application, and her art is connecting with the Divine. Get a psychic reading with Mountain Sage at PsychicAccess.com.