Make The Most Of Your Next Saturn Return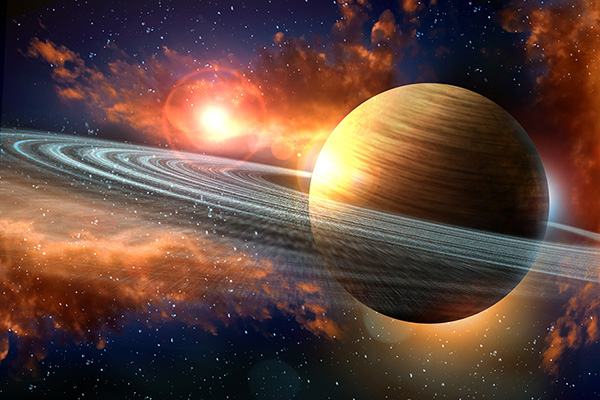 Saturn can be a very challenging, difficult planetary influence because of the astrological phenomenon known as Saturn Return, which occurs every 27 to 30 years, which is the duration of its orbit around the Sun back to the same place in the galaxy where it was at the time of our birth. It literally returns to the same zodiac sign, degree, and house.
The three Saturn Return in our lifetime occurs around the ages of 27 to 31; 56 to 60, and 84 to 90. Although it is possible to estimate your dates using an online calculator, it may be best to have it calculated by an experienced astrologer.
This major astrological aspect is not to be taken lightly. Saturn Return is associated with major life transitions and personal upheaval. Such as relationship breakups, divorce, relocations, health challenges, and major career, business, or lifestyle changes.
It is a highly self-reflective time when we must contemplate our path, evaluate the choices we have made thus far, and carefully consider what is no longer serving us. People often get sober, get divorced, get married, change jobs, or decide to have children during this time.
Saturn Return exposes our dysfunctional habits and past mistakes, and we gain a new perspective on our life. If we carefully work through these challenges and redefine ourselves on a deeper level, we are empowered to move into a new and improved next chapter of our life.
My first Saturn return included personal growth and healing work brought on by two dysfunctional relationships.
The first was a crush I had on an older boy when I was 11 years old. I have since been shown that I have shared several past lives with him. This time he wanted nothing to do with me, because I was just the "weird psychic kid."
Saturn provides us opportunities to balance past karma and reach a place where conscious choices become our reality. Once an individual steps through Saturn's gates of initiation, Saturn provides tests of authority, duty, and order ~ Tracie Ann
Years later, when I was 28 years old, I attended our high school reunion and reconnected with him. We started a torrid romance, which ultimately turned into a major disappointment, when I realized that he was not capable of a healthy relationship. He had suffered lot of childhood trauma that I did not know about, and that he had not made any effort to heal from it. He later met the perfect partner for him, but he still could not find the courage to let love in.
The upside of this Saturn Return was that he and I remain close friends to this day, while I was able to move on and open my heart to someone else. The experience also helped me to resolve childhood feelings of rejection and insecurity.
The other energy cord that Saturn helped me clear up was with a relative. She has always been envious of me and obsessed with competing with me. When I was in my late 20s, I had a boyfriend and several friends who refused to be around her, because of the way she acted. I put up with a lot of abuse from her, mostly because I felt sorry for her. She suffered much abuse as a child and had been diagnosed with a mental illness.
During the time of my first Saturn Return, I heard from different sources that she had been cheating with my boyfriend and was spreading horrible lies about me. Since I was in my Saturn Return, people around me felt encouraged to finally tell me the truth about her.
Not only did I end the relationship with the unfaithful boyfriend, but I eventually was able to also cut ties with the toxic relative, which brought me great freedom, inner peace, and happiness. It was painful, but it led to a healthier existence for me.
Your twenties are meant to be a time of exploration, and when your Saturn return comes, it begins to solidify everything that has been hanging in the balance while you figure out who you really are ~ Lindsay Geller & Aliza Pelto 
Seeing the truth is painful. Seeing other people for who they really are, once the veil is lifted, is painful. But being surrounded only by people who care for you and love you is wonderful.
Saturn Return is like the Fall Season in our chart. It comes in like a violent, harsh wind that knocks the old leaves off the trees, so that new, beautiful ones can grow out in the Spring.
When my children are old enough, I will educate them on the future return of Saturn in their chart and reassure them that it does not have to be disruptive or traumatic if they do the necessary work beforehand.
If you are currently approaching your late 20s or 50s, then prepare yourself to embrace your Saturn Return. If you do the groundwork now and approach it with a positive mindset, it will be an enlightening, transformative experience that will change your life for the better!

About The Author: Satya

Satya lives in Northern California and is a natural Clairvoyant, Empath, Conduit, teacher, author, animal lover, healer, Reiki Master and an advanced yoga instructor. She has provided valuable psychic assistance to Hollywood stars, athletes, and everyone else in-between. A multi-layered Intuitive, with many unique gifts at her disposal, she can give you a doorway into the past as well as a gateway to a happier future. With her long distance energy work, she provides healing for people and animals too! She instantly spots karmic connections from past lives that directly affect current situations, helping clients to move through them quickly. For accurate solutions on just about any pressing problem, you can find Satya at PsychicAccess.com.