The Wisdom Of Intuitive Eating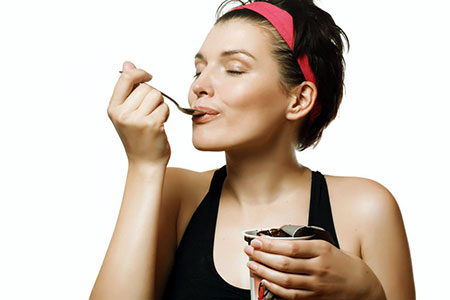 I remember reading an article many years ago about a research study conducted with children suffering from various nutritional deficiencies and food allergies. The scientists invited about 20 of these kids into a room with a table on which there was a variety of foods on display. They allowed each child to help themselves to any of the food they preferred. The outcome was astounding!
Each child chose a selection of food that their body naturally would tolerate the best. In other words, they instinctively chose foods that would not a bad for them or cause an allergic reaction. Furthermore, the children also chose more foods containing the nutrients their little bodies were lacking.
This confirmed for me the fact that our intuition or inner guidance system is not merely something we rely on when we are facing major life challenges, or when we are engaging in some form of spiritual practice. Intuition guides us every day in everything we do.
Intuitive eating is very much about honoring the temple which houses our soul. I believe we could potentially become nutritionally much healthier if we learn to trust our intuition more when we make dietary choices, instead of following fad diets and food trends.
Intuitive eating is about challenging modern society's 'food police,' as well as the negative self-talk about eating and food choices many of us tend to engage in.
Intuitive eaters soon find that they eat just the right amount of various foods to nourish and satisfy their body, as they learn to truly recognize their body's signals. Once you can do this, you are on your way to building a healthy relationship with food.
Be gentle with yourself. Avoid those magazines and influencer images on social media that prompts you to put pressure on yourself to look a certain way. Don't give energy to such things. Instead, listen to your own body. You are uniquely you, and so is your body. When you express self-love within, you will also express it outwardly. Self-love 'turns head's like no designer outfit can!
To change our eating habits, we must learn to eat mindfully, being more aware of chewing and tasting what we eat so that the brain can register the incoming nutrients ~ John M. Poothullil
Something special happens when we make peace with food and give ourselves unconditional permission to eat for our health and well-being. Intuitive eaters find it less tempting to indulge in foods that do not feed their temple. Before biting into something, the intuitive eaters is automatically guided to ask herself if this will be truly nourishing for her body, mind and soul. They also find it easier to stop eating when they no longer feel hungry.
Mindfulness is not only key in making food choices, but also while we are eating. Pausing to reflect between bites enables the intuitive eater to tune into her nutritional needs and levels of satiety. Intuitive eaters are less likely to engage in mindless stress binges or emotional eating.
Intuitive eating is not only a form of self-care, but can even become a daily spiritual practice. A friend of mine, despite her hectic schedule, takes the time every day to set and decorate a place for herself at her table.
Intuitive eating is liberating and empowering. It enables us to eat without the guilt and self-judgment. It also increases our enjoyment of food as we become more aware of both the textures, tastes and flavors of nature's abundance.

About The Author: Shani

Shani is a qualified practitioner in Reiki, aromatherapy, reflexology, body spin, and animal telepathy who received psychic development training at the Arthur Findlay College of Psychic Research in England. A published writer, her articles and predictions have appeared in several respected magazines and on psychic websites, and she has read for many celebrities and even heads of state in Africa. Though she was born in London, Shani has traveled the globe and has studied the art of African Mysticism, bringing her unique flavor to those seeking her incredible talents. Get a reading with Shani at PsychicAccess.com.