We Will Become Whole And New Again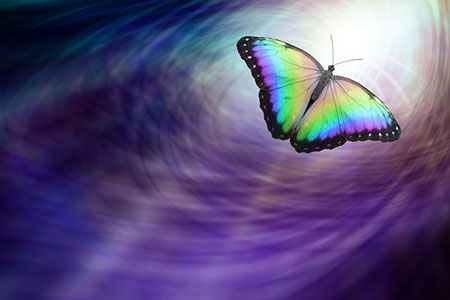 Cleaning out the home of a loved one who has passed is certainly not a task anyone looks forward to. In truth, it is the last thing one would ever want to do. About a year ago, I found myself doing just that for a departed family member.
I oversaw the kitchen and was told that if there was anything that I could use in my own home, to go ahead and put it in a box and take it with me. I did happen to come across a couple of items, including a set of two large, oval-shaped dishes.
Recently, I'm in the kitchen one evening, taking out food from the microwave oven and placing it on this dish. I have done it many times before without any problem, but on this occasion the dish decided to crack. Not only did it crack significantly, but it also made a loud, sharp cracking noise!
Later, as we sat down for dinner, I gave a family member the other matching plate as a base for some food from the microwave, and the same thing happened. It was the same crack, and the same noise, and it seemed rather odd.
I was fairly upset and even made mention that it was a shame, as I always thought fondly of the departed loved one whenever I used these plates in the kitchen.
That night I had a strange, lucid dream about what happened. In my dream we were still eating from the cracked plates, when suddenly, right before our eyes, we witnessed the crack in both plates sealing up in a miraculous way. We could not believe it. The plates looked like the crack had never happened and I remember feeling very relieved, happy and at peace.
The birth and rebirth of all nature. The passing of winter and spring. We share with the life universal. Rejoice in the magical ring ~ Doreen Valiente
I then saw in my dream the family member who the plates belonged to, and he told me his heart is no longer broken from loneliness, and how he had been among us when the family were all together recently for Thanksgiving. I later remembered that had felt him there with us in spirit that day.
While meditating on these events later, I asked for an answer as to why all of this happened with the plates, and the meaning behind the dream. I was then shown that it doesn't matter how broken we are in life, once we cross over to the other side, we become whole and new again, and we remain connected to our soul family forever.

About The Author: Moon Goddess

Moon Goddess is a third generation empathic healer and seer. She started to give healing readings to people more than 20 years ago. She has always been interested and studied all things metaphysical from a young age. Being hypersensitive she can feel and see things before they happen. Utilizing the Tarot, and with the help of her Guides, she is a source of support for many people all over the world. After he passed over, her grandfather kept his promise and came back to say goodbye and gave her the most amazing experience. Moon knows there truly is a Heaven, and it is wonderful! Sharing her experience has helped many people after they have lost someone, or anyone experiencing some form of grief. Get a reading with Moon Goddess now at PsychicAccess.com.