To The Beat Of My Own Drum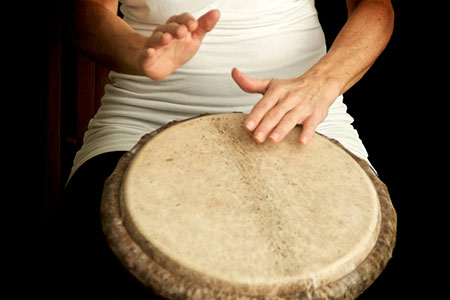 I am in the process of moving home. While going through years of stored stuff in the attic of my old home, I found a Christmas gift that my parents gave me around the age of four. It was a little drum, intact, with sticks to play to the beat of my young heart. I am sure there were many times my parents thoroughly regretted buying a four-year-old a drum to bang on!
To my surprise, throughout the house, I also found a total of eleven more drums. All different sizes and kinds. And it is safe to say I can still make a joyful noise with each one (although my family might consider this debatable).
In the summer we spend a lot of time at Camp Etna, one of the spiritualist camps here in Maine. We have two small cottages here – one that we live in, and another I use as my office. Some of the drums I found are kept in the office cottage, for my clients to enjoy.
Why the obsession with drums, you may ask? Well, drumming has always been a form of great stress relief for me. You can release pent up emotions, by beating the drum as hard or soft as you wish. It feels good to express yourself through the primal beat. Moving to the sound of the beat seems to make doing most tasks easier. Drumming is just plain old-fashioned fun, and people around the world have been moving to the sound of drums since the beginning of time.
Drums are also a very useful spiritual tool. In energy work, for example, I use drums to get in touch with the heartbeat. We also host a drumming circle here, at least once a week. Young and old come out to participate, and everyone in the area is invited. It is a spiritual activity that helps to unite the community. One person sets the intention, and the beat for the circle, and then all join in. It is wonderful to see the smiles and joy the drumbeat brings to faces.
Anyone can learn to play the drum. With people being at home much more these days, if you have always had the desire to learn to play and instrument, it is a good time to try the drums. With all the information technology we have these days, there are many courses and tutorials available online for one to learn drumming techniques in the comfort of your home.
I'm inspired by anyone who's honest in their own expression, people who truly beat to the rhythm of their own drum ~ Gillian Zinser
One of the most fun and rewarding classes I have participated in was learning to make your own drum. Each person could choose the materials that they were most drawn to. Each of the drum hides made available to us was unique, as each hide had varying dark and light areas. I chose a hide in which you can actually see the pattern of a face on the surface.
I have always been most drawn to people that dance to the beat of their own drum.

About The Author: Elizabeth

Elizabeth's talents go back several generations. She found her own gifts and embraced them at an early age, recognizing the difference between herself and most others around her. She's since honed and mastered many metaphysical practices, providing hypnotherapy, Psychic Mediumship, Mysticism, and Hypno-Reiki to her clients in Maine, and in areas around the US and in Canada, where she travels. A lover of pets, they are her greatest teachers and these unconditionally loving creatures often chime in on a reading in addition to the Angels, Guides and loved ones who provide resolution and answers for each of her clients. Elizabeth is also an author with much spiritual wisdom to impart and is currently working on a book. If you'd like to be a recipient of her unique Psychic Wisdom, find peace and receive answers that will also benefit your highest good, you can reach Elizabeth at Psychic Access.