The Dreamy Neptunian Waters Of Sean Connery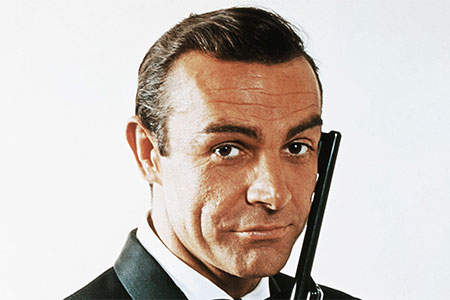 This year, on All Hallow's Eve, I received news that truly rattled me. Halloween is normally a magical time for me, but I was left shaken with sadness this year, because one of my most beloved heroes, Sean Connery, had passed.
I think of Connery as Indiana Jones's ingenious, funny dad, or as Daniel Dravot in The Man Who Would Be King, as well as the handsome love interest Mark Rutland in Hitchcock's Marnie. But most of all, he is the true James Bond 007 original, of course, to which all subsequent iterations pale in comparison (although Daniel Craig does come a close second in my opinion).
Taking a peek at this iconic movie heartthrob's astrological chart, one discovers some interesting nuggets as you dive deeper into his mysterious Neptunian waters!
His humble beginnings on "the street of a thousand smells," as Connery once described it, was anything but easy. This is evident in his natal chart, with the serious nature of Capricorn, with its retrograde ruler, Mercury, sitting on his Ascendant.
However, this is also why he managed to make something of himself, often by using purely his wits, versatility and ingenuity, because Mercury is a capable planet placement that ruled his house of hard work! True to his Virgo nature, he worked diligently on his physique to become a notable bodybuilder, for example, which laid the foundation for his future stardom. The Moon in his 9th House further gave him the imaginative mind and empathetic understanding he needed to become so successful internationally.
An 8th House Virgo Stellium (a cluster of three or more planets in a single sign or house), made this meticulous, down-to-earth Virgo very much the perfectionist, and contributed greatly to the legend he ultimately became.
Love may not make the world go round, but I must admit that it makes the ride worthwhile ~ Sean Connery
His soul path, Sun's purpose sign, also in Virgo, and sitting with Neptune, enabled him to delve more deeply into his illusory characters, such as James Bond, the ideal man. The strength of his Neptune lent him even more compassion and sympathy for the plight of others.
At the ripe age of 90, this charming man had lived a very full life. He'd been unwell for a while, and it was time for him to go into that gentle night. He was in a 7th House profection in the year 2020 – a place where the sun sets, and where his own exalted Jupiter dwells, along with Pluto, symbolizing a highly honored death and rebirth from this life into all that awaits him on the Other Side.
The Moon and Mercury, ruler of his profection year, have been meeting up and the whole world is now talking about the life of this highly revered actor. And also contained in that same 9th House, which symbolizes people of an international flavor, lies his life force, the Sun, with dreamy Neptune beside it, remarkably depicting the passing of a larger-than-life star in his sleep.
I haven't found anywhere in the world where I want to be all the time. The best of my life is the moving. I look forward to going ~ Sean Connery
Oh, how bright the transpersonal planet of Neptune was in his chart! This rendered him that dreamy quality to morph into whatever role he played, and gave him the sweet, compassionate and caring attitude he always had with his scene partners.
Marnie's Tippi Hedren adored him, as did Catherine Zeta Jones. Harrison Ford was his real-life bromance, and his legendary friendship with Michael Caine endured for decades. "A great star, brilliant actor and a wonderful friend. The man who would be king was the king," Caine recently Tweeted.
My mother, daughter and I, have been crying rivers after your passing, dearest Sir Sean! Your cross-over appeal has now crossed into the Heavens, where I'm sure Ian Fleming is shaking your hand right now, saying, "Well-done, Bond. Let me buy you a Vesper Martini? Shaken, not stirred."

About The Author: Tracey

For 11 years, Tracey's predictive practice has taken her down the rabbit hole, where she's amped up her intuitive gifts by mastering new tools that are accurate and cutting edge. She began with Tarot, Numerology, Soul Path Energy Clearing and Natal Astrology, reading for her one-on-one clients in her private practice, at fairs and festivals, and at private parties. Her newest technique, Horary, is popping up on new apps and on social media. Horary is a predictive and magical form of astrology like a psychic reading, with a chart cast for the moment and quickly read by a highly trained practitioner in the art. Tracey currently lives in South Florida, but she maintains a busy practice with clients situated mostly in Los Angeles, NYC, Chicago, Atlanta, and Palm Beach. Past clients she has worked with include a well-known Disney actress, a comic book icon, an Emmy nominee, a luxury hotel entrepreneur, and the founder of Ben and Jerry's ice cream. Tracey was asked to be part of a panel for an exciting new YouTube series sponsored by the prestigious Wessex Astrologer. She is also a successful sci-fi and fantasy author with a new book recently released to rave reviews. You'll have a magical trip when you hop aboard Tracey's exciting Horary bullet train leaving the station at PsychicAccess.com.