How To Make The Winter Season A Happy, Healthy Time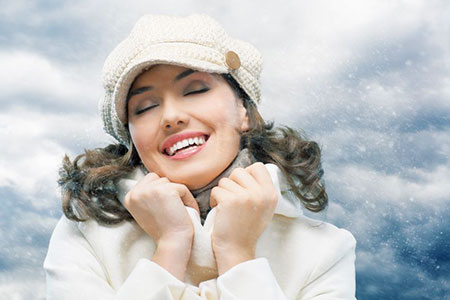 Just yesterday, my husband said to me that it was getting dark earlier and he already dreads the long, drawn-out winter months that we always have in this part of the world. My husband's statement struck a chord with me. Yes, the winter is a challenging time for many people, especially those of us who live in very cold regions.
So, winter is indeed fast approaching, but like all seasons, it need not be just endured. It can actually be embraced with excited anticipation and add value to our quality of life. Below are some ways to make the most of the coming winter months.
Lifestyle Choices
I personally find it hard to even get out of bed during the cold winter months! To counteract this, I set my alarm clock earlier and pre-book an appointment at my local gym, as I know that exercise is vital for my health any time of the year.  Exercising in winter has many benefits that include not only helping us to feel warmer and happier, but also enhances immunity and helps prevent dreaded weight gain, in what some people refer to as the 'fat season.'
As vital as exercise is for both the body and mind, our diets cannot, and should not, be over-looked. Like physical activity, food also has a significant impact on our emotional well-being.  Consuming mood-enhancing foods such as oily fish, bananas, chocolate (dark variety please and not too much), yoghurt and oats, could have you smiling again in next to no time!
How many lessons of faith and beauty we should lose, if there were no winter in our year! ~ Thomas Wentworth Higginson
However, as comforting as they may seem during the cold season, do try to steer away from refined carbohydrates and processed foods, as these can really play havoc with blood sugar levels which, in turn, cause weight gain and affect one's mood.
Avoid Boredom
It is easy to get bored in the winter, which is by no means conducive to emotional happiness. After all, it is sometimes so cold, you don't even want to get up, let alone do anything! The way around this is to do activities that you actually enjoy doing. Download that movie, take the kids ice skating, arrange that fireplace dinner with your loved ones, plan next year's holiday, take up writing or painting, or start decorating your home in mood-enhancing colors.
Another great way of alleviating boredom is to draw up a weekly time table of events. This should include your working life, health and fitness regime, time spent with loved ones, and recreational time. By carving out your week more effectively, you really won't find the time to be either unhappy, or bored.
Outdoor Recreation
Aside from the physical benefits that spending time outside can bring us, such as burning extra calories and manufacturing more Vitamin D, it can also really help to elevate our mood. Did you know that natural sunlight assists our brains to produce more of a chemical known as serotonin? Yes, this 'happy chemical' can help to lift your mood, fight depression, allow you to sleep better and could enhance libido – even in the cold season.
So, layer up those warm clothes, put the dog on her leash, head for the nearest park and breath in the fresh autumnal air. Kick the leaves, listen to the birds singing. It will put a new spring in your step!
If you can find the time to enjoy a woodland walk, the bareness of the trees in winter should make it easier for you to see the local wildlife, who would usually be hidden by the branches.
Winter can be as beautiful as the summer months. Notice, if you would, how the colorful plumage of the robin redbreast fully shows itself in contrast to the snow, which is not so apparent during the warmer seasons. Or, how crocuses show their full beauty when peeping out from surrounding sleet, along with the promise of the coming spring. Gazing upon nature's beauty, even in the harshest of seasons, inspires one to be more reflective, and find peace in both your outer and inner world.
He who marvels at the beauty of the world in summer will find equal cause for wonder and admiration in winter. In winter the stars seem to have rekindled their fires, the moon achieves a fuller triumph, and the heavens wear a look of a more exalted simplicity ~ John Burroughs
Excited Anticipation
Have you noticed how much nicer life is when you are looking forward to something? This is particularly important to do during the cold season. Whether you plan a small or large treat for yourself, the power of 'excited anticipation' tends to work well during the drab days of winter. Find things to look forward to in your life.
Color Therapy
If you are prone to an annual 'winter slump,' give yourself a boost with color. Wear more red, as this is an energizing color. If winter tends to make you feel anxious, then blue is the color to wear, to instill a sense of calm.
If the cold season takes away your sense of focus, wear some yellow to encourage positivity and a sense of direction and purpose. If it is winter inspiration that you need most, then add some purple to your wardrobe.
And if you feel a little bit 'off-balance' during the change of seasons, try wearing more green between the autumn and winter months.
Aromatherapy
The power of smell can never be underestimated, and during the cold and bleak winter months, there are many wonderful and uplifting aromatherapy oils you can take advantage of to cheer your mood. These amazing oils can be added to your bath, your shower, an oil burner, or you can even spray them onto your pillow to aid a good night's sleep.
Lavender, for example, is excellent for relieving stress, whereas sandalwood can help you to feel grounded and soothed.  The essential oil of lemon, however, is superb for elevating one's mood – even on the darkest winter day!
May you stay strong during your transition into autumn and winter and have a blessed ending to the year.

About The Author: Lucinda

Lucinda is a highly trained Intuitive and Empath, living in a beautiful village in North Yorkshire, England. She possesses the rare gift of understanding a client's personal pain and has been through many challenges, herself, which has only made her stronger! It is both her calling and her happiness to help those in need. And whenever she needs a little help herself, her Guides are always there to assist in her development and provide clear interpretations for her clients. Prediction has always been a great tool she could count on to accurately foretell events, but Lucinda also draws on her expertise with Dream Interpretation, Numerology, Angel Cards, Law of Attraction and Life Coaching to provide full and detailed solutions to any problem. A member of AMORC and Beyond Freedom Evolution, she provides inspiration, education and personal support for spiritual development. If you'd like answers or want to attract your desires, you can find Lucinda at PsychicAccess.com.