Home Is Still Where The Heart Is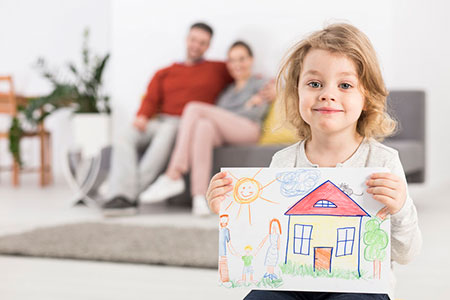 This is a traumatic, stressful time in history for many of us, especially since there is so much confusing news and information to process and assimilate. We can, however, do a number of things during this extremely stressful period to make our lives easier, instead of cowering under the bed until it all blows over. Most importantly, we can choose to face reality with gratitude, courage and fortitude.
There should be precautions put into place certainly, but also there should be some joy and happiness, as well as planning for the future. We should be taking advantage of this blissful and happy downtime inside the place where we usually love, hope and live – inside our personal domicile, our home.
Never before have we had such ample opportunity to get to know our loved ones in a more intimate and connected way. Never before have we been reminded so deeply of the many reasons we have to be thankful for. This is a unique time in our lives, during which we can teach our children, as well as each other, that what appears to be a bleak and dire moment can certainly be turned around and changed into one of joy, appreciation and merriment.
Instead of sitting around feeling miserable, many parents have, for example, been contriving makeshift toys, contraptions and activities to help children continue to be happy and carefree, as they should be, whether it be indoors, or in their own backyard.
There are also many adults who are taking advantage of this 'alone time' to reconnect, not only with others whom they may have been unintentionally neglecting, but also getting to know and understand themselves on a deeper level.
A home is a kingdom of its own in the midst of the world, a stronghold amid life's storms and stresses, a refuge, even a sanctuary ~ Dietrich Bonhoeffer
Trying times are presented to us for a reason. We may not always like or appreciate it, until we learn to take full advantage of the why's and the wherefore's as to the underlying causes. The world at large has become slower and a little quieter, which some of us can afford to adapt to for a change. Our spending frenzies have been curbed somewhat, which also is not such a tragedy, as most of us accumulate too many items we really don't need, and then discard so easily.
The privilege that many of us should be embracing with the most joy and appreciation right now is for us to be inside one of the best places in the world – our home. There are many out there who do not have a decent roof over the head. Most of us are fortunate that our hearth and home is a place where we can create an atmosphere of comfort, peace and harmony that might not have been the case before we were forced into a complete change in our daily lives.
Home should be an anchor, a port in a storm, a refuge, a happy place in which to dwell, a place where we are loved and where we can love ~ Marvin J. Ashton
We have also been given a chance now to learn to appreciate some of the people and things out there in the world, that we may have previously overlooked or undervalued. We will not easily or quickly recover from this trauma, once the world starts to spin back on its regular axis, but I think that it can also be a blessing in disguise.
Let us remember what it was like to take for granted all that we used to have available to us, and could access so easily. Let us make a commitment to ourselves and to others that we will recognize and appreciate all that we have, while we stay warmly wrapped in the security, comfort and privilege of our home. For home is indeed still where the heart is.

About The Author: Kitty

Kitty is a Canadian Intuitive, born into a large family of clairvoyants and clairaudients. A local celebrity, she's been giving accurate predictions in her paper for over fifteen years now, and is often called upon to lead séances and provide readings at Psychic Fairs in Vancouver. A trained counselor, she combines her natural Gifts to detect blockages at their root, and provide detailed psychic information and practical advice for success and happiness. She's helped locate missing items and people, has communicated messages from loved ones who've passed on, and communicates with two Sacred Celestial Beings who are unerring in the startling information they provide. If you'd like to connect with this remarkable Intuitive, whose talent spans generations, you can find Kitty at PsychicAccess.com.