The Key Is In Your Hands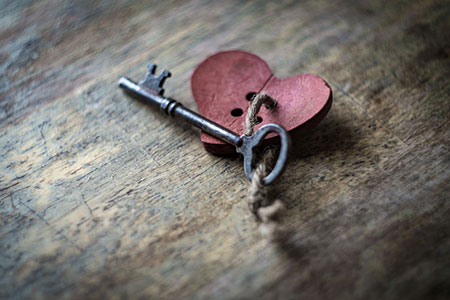 I received a lovely necklace as a gift recently, with a beautiful center stone and a small 'skeleton key' at the bottom. A skeleton key is a type of master key in which the serrated edge has been removed so that it can open numerous locks .I've seen these keys before, and remembered vaguely the symbolism, but I decided to refresh my knowledge by researching further the significance of this symbol.
Katie Pifer writes that keys have had a variety of spiritual symbolisms attached to it "for as long as man has had locks.  They are connected with gateways and portals, doorways to the unknown, knowledge, mysteries, powers, initiations, new ways, forbidden things and answers to curious questions."
Keys symbolize our ability to gain access to those things of either a material or spiritual nature that are of the greatest importance to us. The key is an object symbolic not only of opening doors to new paths that align with our desires, but also closing and locking doors to those things that we wish to leave behind.
Skeleton keys are considered to be a more powerful symbol, since they can open many different locks. Thus, they have been perceived to be the powerful 'keys to the Kingdom,' or the key to that someone special's heart, and so on.
Skeleton Keys are traditionally also worn as powerful amulets. It is thought to be good luck to touch a key when you are entering a challenging or dangerous situation, because keys are believed to keep you safe. They are also symbolic of transformation, freedom and liberation.
When a woman puts an antique key on a chain and wears it around her neck, close to her heart, it could mean any number of things, a mystery just begging to be unlocked ~ Lisa Hix
Key symbolism is found in various spiritual traditions and cultures, including Roman and Greek mythology, Wicca, Celtic religion, Paganism, and Christianity. Keys were often given to those worthy of leadership, divinity, discernment and power.
Given the strong history, energy and beliefs attached to this symbol, it may be helpful to incorporate this metaphysical symbol in your spiritual practice or lifestyle, in a modern form that you feel comfortable with. A piece of jewelry, a charm on your key chain, or a decorative symbol that is displayed on a piece of furniture or wall, are all great ways to tap into the power of the key.
Wearing jewelry which incorporates a skeleton key, or having one on a key chain, can act as a powerful visual reminder that the key to success and happiness are in our own hands, and our hands alone. It can be a reminder of our faith, spiritual beliefs or belief in ourselves. It can remind us not to give away our 'keys' or power to an outside source.
Symbols in life are very much like seeing or seeking keys that unlock doorways, open and reveal more to you and provide access through portals of experience. When you find the 'key' you discover ways to solve challenges creatively, receive greater insight to things, and uncover mysteries ~ Tania Marie
Also, a key amulet can be a reminder to seek greater knowledge and wisdom, and exercise discernment in personal and professional matters. Who are you allowing to access that most precious part of your mind, spirit, body? What doors are you unlocking in your persona and professional lives? Who are you allowing in? Are the doors we are opening in our best interest? Is this a door that should be shut, or opened?
These are all important questions that we need to hold ourselves accountable for. Are unconsciously giving away the keys to your personal happiness, love life, career success, or healthy family life? Then maybe it is time to own the fact that only you had the power to hand over those keys to another, and maybe the time has come to claim it back.

About The Author: Angelic Heights

Empathic, intuitive, psychic from a very young age, Angelic Heights (Gail) learned well the importance of using her gifts for the highest good. Marriage and a career in the paralegal field occupied her until her early 30's. Accurate, compassionate and direct, her focus now is entirely on enlightening, uplifting, inspiring and guiding those who seek her counsel. Get a reading right now with her at PsychicAccess.com