You Don't Need A New Year For A Fresh Start!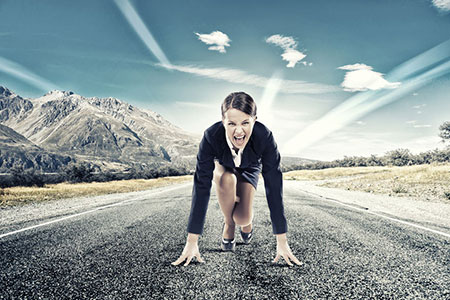 Ever since my early childhood, I have always adored, and still do love the New Year. It is a thrilling time, after all, of fresh starts, new goals and exciting plans. But as the years rolled by, and I came into my mature years, I have also learned that whilst enjoying the New Year, we can actually have a fresh start at any time!
There is need to wait for a particular moment in time to exact any change in our lives. It is true to say that for a lot of us, as the old year comes to an end, it can be somewhat tempting to procrastinate by offsetting any new goals until the next New Year, when in fact they could have been implemented sooner. Furthermore, the sooner we start to implement positive change, the sooner we begin to feel the benefits.
The following guidelines may help you to make a fresh start whenever you choose.
Have A Vision
If you enjoy making resolutions on New Year's Eve, then, by all means, go ahead. However, you would be wise to strengthen your commitment to your long-term goals, which align with your actual core values. By doing so, you should have an awful lot more to gain than one successful resolution could ever bring you.
After all, it is how we evolve in the long run that really matters. In simple terms, by putting your words into action, preferably by using the guidelines outlined above, you should be much more successful in achieving your goals, whatever time of year it may be.
If you have built castles in the air, your work need not be lost; that is where they should be. Now put the foundations under them ~ Henry David Thoreau
Start Right Now
If you really want to instill positive change in your life, then one day or time is no better than the other. Starting right now is usually a good way to go!
Plan Of Action
Resolutions without a plan of action remain resolutions. It is essential, therefore, that you draw up a constructive road map on how to get from where you are, to where you would like to be, so that your resolution will become your reality.
Keep It Personal
Make sure that your resolutions are of your own choosing and implement them when you are ready to do so. Avoid the type of goals that other people think you ought to put in place. Decide what's best for yourself and listen to your gut. That is always the best way ahead.
Set Realistic Goals
Looking back on my life, I have only known one person who really stuck to their New Year's resolution, and no, it was not me! Indeed, a lot of decisions that people tend to make on New Year's Day are overly grand and perhaps somewhat ambiguous, meaning they will very likely fail. So just keep it realistic.
The experts tell us that goals ought to be specific, simple and significant. They should also be measurable, to make them motivating and meaningful. Set goals that are also achievable, and not wildly ridiculous, but attainable. Make them relevant and results-driven. And last, but not least, ensure they are time-based, i.e. to be achieved within a specific time-frame.
Set Time Limits
When it comes to setting timeframes for the achievement of your goals, focusing on three months would be the healthy thing to do. Twelve weeks is quite ideal, as it is the most extended period within which you should have the most control.
After all, a lot can change within this timeline, so imposing a boundary on yourself should ensure that once this time is up, you can then implement a new goal, which is in direct alignment with any new priorities you may have.
By adopting this more short to medium-term approach, you should be much more likely to succeed in your plans – which is what spirit and the Universe want for you.
If you're not stubborn, you'll give up on experiments too soon. And if you're not flexible, you'll pound your head against the wall and you won't see a different solution to a problem you're trying to solve ~ Jeff Bezos
Cultivate New Habits
If you really want to change, and have a more fulfilled life by doing so, it all starts by adopting new habits. However, you do not have to implement all of them on the first day of January. Take your time. By doing so, this should spark long term success.
Let's say you would like to lose weight in 2020 – a typical resolution for a lot of people. Consider the practicality of your approach. For example, you might soon run out of steam, so to speak, if you were to go on an unhealthy crash diet, while trying to suddenly lift heavy weights every day of the week! Instead, slowing down, planning your food intake wisely, and dedicating enough time for weekly trips to the gym might yield much better results, compared to any frantic, urgent approach might.
Forming new habits helps to reprogram your mind, and by doing so, this can be a great way of breaking old habits that you have probably been stuck with for years. For me, it's all about eating less chocolate…
Strive For Balance
You are more likely to achieve your goals if you plan for time off, including vacations and family time. After all, life is not all about work, but more about 'balanced ambition.' Therefore, as you lay out your road map for 2020, don't forget to schedule some 'me time' doing the things you love.
Adopting this approach will not only help you to reach your goals with more relative ease, but it makes the process more enjoyable at the same time.
Remember Your Self-Worth
Believing in yourself is vital when it comes to goal-setting, irrespective of what time of year you set those goals. Remind yourself regularly of just how awesome you really are, and that you can and will, gradually, make it all happen.

About The Author: Lucinda

Lucinda is a highly trained Intuitive and Empath, living in a beautiful village in North Yorkshire, England. She possesses the rare gift of understanding a client's personal pain and has been through many challenges, herself, which has only made her stronger! It is both her calling and her happiness to help those in need. And whenever she needs a little help herself, her Guides are always there to assist in her development and provide clear interpretations for her clients. Prediction has always been a great tool she could count on to accurately foretell events, but Lucinda also draws on her expertise with Dream Interpretation, Numerology, Angel Cards, Law of Attraction and Life Coaching to provide full and detailed solutions to any problem. A member of AMORC and Beyond Freedom Evolution, she provides inspiration, education and personal support for spiritual development. If you'd like answers or want to attract your desires, you can find Lucinda at PsychicAccess.com.