Choosing Peace Over Conflict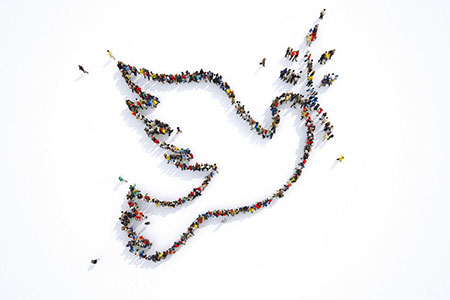 There will always be moments in life when we have to choose between peace or conflict. This was the case for me just yesterday.
About half an hour prior to the incident, I had taken my dogs for a walk in the countryside surrounding my home. Adjacent to the pathway we walked, there were a few men working in the field. I didn't actually see them, but their car was parked up close by, and what I assumed was their lunch had been perched in a plastic bag in one of the olive trees.
Knowing that the curiosity of my dogs would be stirred by that bag of food, I kept a beady eye on them, particularly the two that were off-leash. Thankfully, the only thing my youngest dog appeared to be interested in was someone else's medium-sized dog that was also in the vicinity of the workman's feast. I'd assumed that this dog was with the workers, but on taking the same route this morning, I realized that he belongs to the actual farm there.
So, yesterday, after the walk, I was outside my house, when the worker's car pulled up to my fence. Two young men got out and one of them asked, "Why did you allow your dogs to steal the old man's bocadillo (a sandwich made with Spanish bread)?"
"They didn't steal it?" I replied.
"Oh, but they did," he said. "My friend here saw it happen!"
I took a moment and thought about how to handle this situation in the most peaceful and spiritually aware manner. It wasn't such a big deal, but obviously the old man felt that he had been robbed.
The practice of peace and reconciliation is one of the most vital and artistic of human actions ~ Thich Nhat Hanh
Firstly I reassured them that I was watching my dogs throughout the walk, and had seen the bag hanging in the tree, but that I had also seen another 'corgi-type' dog running up and down along that stretch of land. I suggested that they check for themselves. I also asked which of my dogs his friend thought the culprit was.
"He doesn't know," said the young man, "but it was one of your dogs." Well, I have an odd bunch of rescue dogs, and none resemble the other by any stretch of the imagination! So, I kept my voice calm and concerned, and said that I was very sorry for their loss.
Then, the old man stepped out of the car with the help of his cane. His tone was completely different. He must have overheard what was said and asked politely, "So, you saw another dog up there?" I nodded to confirm. And with that, they all got back into their vehicle and drove off.
I later realized that, during our talk, I had tried to call on spiritual teachings about how to handle a potential conflict situation. The first step was, of course, to stay calm and to just listen to the other person. Then, to speak my truth softly, and importantly too, to acknowledge that what happened was an unpleasant experience. Because, however big or small it may have seemed to me, it may be a very big deal for the other person. Everyone needs to feel that they matter and that their concerns are being acknowledged. Imagine the kind of world we might live in if more of us chose peace over conflict, and made more of an effort to truly listen and respect the concerns of others.
This sandwich incident is a simple example of how a small situation can diffuse or escalate. I sensed that the younger men were getting ready for a serious confrontation or conflict situation. I even wondered what inner discord the younger males were carrying, in that their approach was so different to that of the older man.
Choose your battles wisely. After all, life isn't measured by how many times you stood up to fight. It's not winning battles that makes you happy, but it's how many times you turned away and chose to look into a better direction ~ C JoyBell C
Such is the situation with road rage, for example, where drivers leave home angry and tired, and in a great rush. They then let out all of their pent up frustration onto other drivers, cyclists, and sometimes pedestrians. Sometimes with dreadful consequences!
I remember another intense situation, years ago, when I witnessed in the car park of a shopping centre, a lady driver rudely cutting in front of a man's moving vehicle. He'd avoided impact by braking suddenly, but was particularly angry because his whole family was inside his vehicle.
He then got out of his car and shouted at the lady, "I am sure your husband hates you, and your kids probably hate you too, and I know for sure that I hate you!" She promptly burst into tears. I have often wondered what emotional buttons he might have pushed with his words? Hopefully he hit a nerve that would bring her to her senses so that she would never again risk other people's safety with her irresponsible driving.

About The Author: Shani

Shani is a qualified practitioner in Reiki, aromatherapy, reflexology, body spin, and animal telepathy who received psychic development training at the Arthur Findlay College of Psychic Research in England. A published writer, her articles and predictions have appeared in several respected magazines and on psychic websites, and she has read for many celebrities and even heads of state in Africa. Though she was born in London, Shani has traveled the globe and has studied the art of African Mysticism, bringing her unique flavor to those seeking her incredible talents. Get a reading with Shani at PsychicAccess.com.