Fly Me To The Moon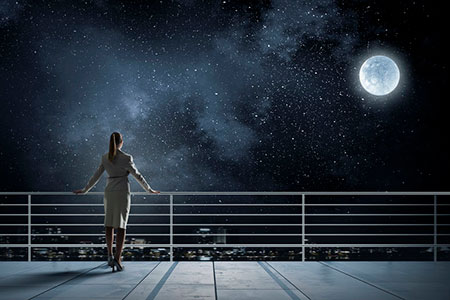 Despite modern day skepticism, people have reported seeing apparitions of those who have crossed over since the dawn of time. This paranormal phenomenon is definitely nothing new to my way of thinking, because I see spirit all the time. They tend to come back to let their relatives know they're okay, and to reassure us that they are watching over us. But sometimes earthbound spirits also appear to ask for my assistance with shamanic soul rescue work.
One of my clients used to live in the busy part of Manhattan, in a very tall building where she could see other peoples balconies. When I was doing a phone psychic reading for her one day, she told me that there was a woman who kept looking over her balcony.
She could never figure out why she always kept looking down. For a while she thought she was trying to see if she had lost something that might've fallen from her balcony, or maybe she was looking at somebody. This had gone on for several months.
The unusual situation peaked my interest. One day, when I was consulting again with this client, there was a 'nagging energy' that kept coming in on my left. I decided to bring it in… and it was the woman on that balcony. Well, actually it was her spirit coming to me. The woman was no longer in this life. She had committed suicide and her spirit was still lingering on the balcony of that apartment building. Her spirit needed to be released.

After the call, I decided to do some shamanic work and release her troubled spirit. Doing this, I visually saw her bursting into what looked like tiny little light beams, empowering her to leave that balcony, be free and go to her next world.
 When we face the sunset the last song, may it be, without shame, singing it is finished in beauty. It is finished in beauty! ~ Evelyn Eaton
Later my client reported that she has not seen the woman on the balcony lately. She thought it rather odd. I then explained to her what I had done and how she will probably not be seeing her anymore. She found it fascinating.
The next time we spoke she told me how she investigated the matter further and found out that there had been someone living in that apartment who took her own life. Talking to the landlord and neighbors, she also discovered that the woman used to be a professional jazz singer. She suffered from depression, according to family.
She was depressed because both her boyfriend and her dad had passed. It is rumored that her father was one of the victims in the World Trade Center bombing of 1993. There was a lot of sadness and loss in her life. One neighbor remembers that she would often sing her favorite song Frank Sinatra song, Fly Me To The Moon.
Interestingly, since the suicide, that apartment unit had never been successful in keeping tenants. I advised my client to encourage the landlord to have it smudged, to which he later agreed. The good news is that there is now a young couple happily living there.
Death and love are the two wings that bear the good man to heaven ~ Michelangelo
In retrospect, I believe the jazz singer on the balcony was trying to get my client's attention, because she knew that by making herself visible to her, she would eventually also reach me… and I could then help release her spirit. Well, her 'haunting strategy' worked!
When I was helping her earthbound spirit to release itself from this world, she must have been singing Fly Me To The Moon again, because I could hear that song being played in my mind!  The sad lady on the balcony must be playing among the stars now…or maybe even enjoying an eternal Spring on Jupiter and Mars.

About The Author: Moon Goddess

Moon Goddess is a third generation empathic healer and seer. She started to give healing readings to people more than 20 years ago. She has always been interested and studied all things metaphysical from a young age. Being hypersensitive she can feel and see things before they happen. Utilizing the Tarot, and with the help of her Guides, she is a source of support for many people all over the world. After he passed over, her grandfather kept his promise and came back to say goodbye and gave her the most amazing experience. Moon knows there truly is a Heaven, and it is wonderful! Sharing her experience has helped many people after they have lost someone, or anyone experiencing some form of grief. Get a reading with Moon Goddess now at PsychicAccess.com.


One Response to Fly Me To The Moon