The Courage To Shed Our 'Old Bark'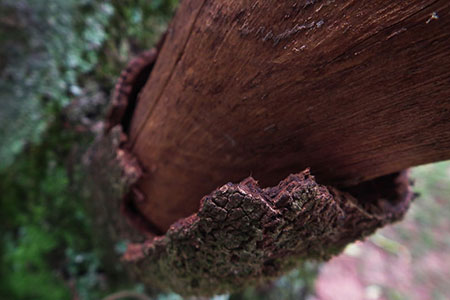 In recent readings, new romance has been indicated very strongly for one of my regular clients. This is a welcome new development, because for a long time, and to his annoyance, his readings tended to relate more to business than to affairs of the heart! He has been very open to new romance for a long time now, but it has been eluding him.
In many of his readings, his late father featured prominently and suggested that unresolved issues connected to his dad were actually impacting his self-worth. As a result, he also didn't feel lovable or attractive enough to meet a life partner.
It seems strange though, that after reading for this gentleman for several years, he'd never mentioned his family. The subject only arose unprompted during the recent readings. This suggests that subconsciously he was ready to release that old baggage and to embrace positive change.
Because he was ready, we were discovering that it was important to now remove any deep-seated belief systems and blockages to his happiness, and for him to finally find a life partner who respected him, as opposed to the abusive relationships he'd known for years. I told him that he was like a tree shedding old bark!
This took me back years, to a time when I would help a former boyfriend, who was a horticulturist, with his seasonal work of pruning. He would climb the trees and prune those, and I learned to be quite the rose pruner at ground level.
We must be willing to get rid of the life we've planned, so as to have the life that is waiting for us. The old skin has to be shed before the new one can come ~ Joseph Campbell
Initially, I found it hard to go just ahead and cut off some of the old roses, which appeared to still have a little bit of life left in them, but he insisted that this was necessary to make way for new growth and the birth of beautiful young roses next season. He was right, for when we returned to the same garden the following year, the home owner was full of praise for the beautiful display of flowers his family had enjoyed that summer.
Just like those rose bushes, we also need to eventually shed our protective layer, or 'old bark,' which we has shielded us from hurt for a long time, in order to grow and blossom in new love. Once we acknowledge our past pain, related to trauma earlier in life, or even in past life experiences, we are able to release it and ultimately reach our full potential, and thrive.
Like the bark of a tree protects its delicate growth process, we also protect ourselves with many defense mechanisms, emotional boundaries and delay tactics. But in order to experience personal growth and greater fulfillment, we must find the courage to drop our defenses and shed our boundaries like a tree's old bark, especially when it becomes too restrictive to our soul's evolution, and the development of meaningful personal relationships.
This doesn't mean that we need to be too 'soft' or 'weak,' but to rather acknowledge where our past experiences are impacting negatively upon our current and future happiness. We can consciously decide when it is time to shed some of our bark and to open up to new growth and development.
Everything has seasons, and we have to be able to recognize when something's time has passed and be able to move into the next season. Everything that is alive requires pruning as well, which is a great metaphor for endings ~ Henry Cloud
A word of caution: when you make this change and shed your 'old bark,' you often find that family and friends, who were more comfortable with the 'old you,' don't like the changes they see in you, and they sometimes even resent the 'new you.'
As much as I loved my father, he could be very controlling and manipulative (he called it protective). As I loosened the control he had over me, initially by distancing myself geographically, I became more self-aware and discovered that I did have an opinion of my own, and I became unafraid to voice that opinion.
When I visited my dad again, after some time away, he commented; "I don't like this change in you, nor what you have become. We aren't close like we used to be. You used to be so much nicer and you agreed with everything I said." Doesn't that speak volumes?

About The Author: Shani

Shani is a qualified practitioner in Reiki, aromatherapy, reflexology, body spin, and animal telepathy who received psychic development training at the Arthur Findlay College of Psychic Research in England. A published writer, her articles and predictions have appeared in several respected magazines and on psychic websites, and she has read for many celebrities and even heads of state in Africa. Though she was born in London, Shani has traveled the globe and has studied the art of African Mysticism, bringing her unique flavor to those seeking her incredible talents. Get a reading with Shani at PsychicAccess.com.