Living Life – A Message From My Guides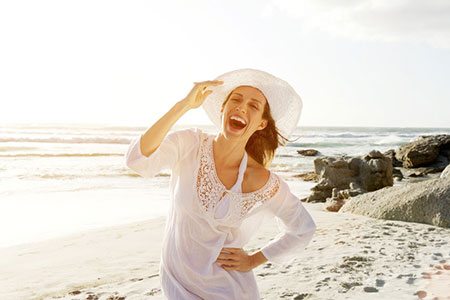 Are you living the life of your dreams? Are you happy or content most of the time? Do you face challenges with confidence, or perhaps dread? Do you compare yourself with others and feel sad, miserable, or even angry at their success? Regardless of whether you feel as though you are at the bottom of the barrel, or soaring among the clouds, there is always room for improvement, and it is never too late to get started.
One of the biggest errors in judgment is all-or-nothing thinking. You do not need to drop everything in your life and start with a blank slate. Not only would that be impossible, it would be totally impractical. Your life so far is a culmination of all your experiences, education, career opportunities and family interactions, and cannot be wiped away like a chalkboard. Instead, you can, and should, start by making course corrections and taking baby steps in the right direction.
Set your intention first. Visualize the end result. Begin the process of redesigning your life gently and allow the universe to conspire in your favor over time. Whether you choose to go back to school, read a book, take a course, attend a conference, learn online or join a group, do something that makes you feel happy and fulfilled. Do it because you want to, not because you have to.
Set realistic goals and deadlines. If you are juggling a family or career or both, be sensible in your expectations of yourself. Things take time and if it is worth doing, it is worth doing well. Do not expect overnight results. Life is not a success-only journey, however, each setback holds a series of invaluable lessons. Deal with each issue, learn from the experience and move on with confidence.
The good life is a process, not a state of being. It is a direction not a destination ~ Carl Rogers
Forgive. Looking backward at former injustices can either cause more angst or help to propel you forward. Forgiveness helps you to continue on your own path without dragging negative baggage with you everywhere you go. Learn to let go so that you do not limp through life weighed down by the past.
Keep an open mind. Understand that the twists and turns of life can add up to create the most ideal set of circumstances imaginable. Do not discount bumps in the road, side paths or obstacles as being a total waste of time. You will be stronger and wiser for having faced them head-on.
The saddest summary of a life contains three descriptions: could have, might have, and should have ~ Louis E. Boone
Your ultimate goal is to be of service to others. Whether that means involving family, friends, neighbors, colleagues or strangers, you will choose the vehicle that is right for you. Everyone is a teacher or mentor of sorts. Show by example and inspire others to follow in your footsteps.
Leave a legacy of love, kindness and support. Regardless of your station in life, the money you make or the things you accomplish, people will always remember how you made them feel when they were in your orbit. Give from the heart and people will know the truth behind your actions.

About The Author: Monica

"What you think about, you bring about; what you believe, you become." This is Monica's philosophy, derived from her twenty-five years of experience as a Clairvoyant, Light Worker and Medium, living in Ontario, Canada. Monica has been a guest speaker at various Spiritualist churches, conveying Spirit greetings and messages from loved ones during Sunday services, All Mediums Nights, Healing Services, Meditation Services and special fundraising events. She's been an advisor to several international business leaders and connects with all of her clients on a level of love light and empathy. She delivers messages containing ideal outcomes and positive solutions with the help of her guides. If you'd like Monica to help shape your destiny, you can find her at PsychicAccess.com.