How To Live A More Spiritually Aware Life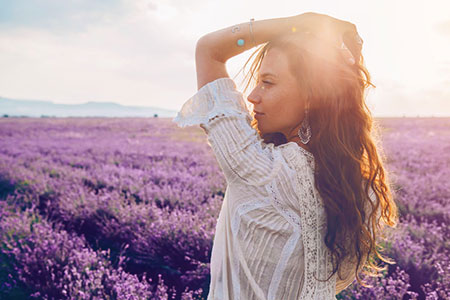 To lead a more spiritual, and therefore a happier and more fulfilled life, you do not need to develop a passion for incense, or hire a guru to assist you in going through some form of spiritual awakening. Instead, you may be comfortable with more down to earth approach.
Firstly, it is important to recognize that religion and spirituality are not necessarily the same things. Religion is just one form of spiritual practice. Spirituality itself is something that comes from within the individual.
Spiritual awareness is a sustained belief that there is much more to life than meets the eye, something greater than yourself, even though you have no evidence for it. Hold onto this belief or feeling, as it is very, very real!
One of the best ways to get in touch with your spirituality is to spend time in nature. It does not matter whether you live, in a town, city, or rural area, connecting with nature is imperative, as it will help to bring a sense of peace to your overworked mind, and it will uplift your spirit with its rejuvenating power. By doing so, it will assist with your spiritual development.
To become more spiritually aware it is also important to learn to control your inner dialogue. Becoming a more spiritual person involves monitoring your inner voice and making sure that your self-talk is healthy. Meditation can be particularly helpful in this respect, as well as recognizing any negative thought patterns or false beliefs that you may have.
Nothing glows brighter than the heart awakened to the light of love that lives within it ~ Guy Finley
Being spiritual is also about having trust in the life path you are on, For some of us this can be somewhat challenging.  Nevertheless, however difficult your path may seem, or however much you may feel crossed by other people whom you meet upon it, it is essential that you let go of any negative thoughts you may have about them, or about your circumstances. By doing so, and taking charge of your thoughts at the same time, you will better connect with your intuition and your higher self. Once you have done so, life suddenly gets better.
Next, you must recognize the importance of putting the past behind you. Are you still emotionally beating yourself up for past mistakes? If you are, it is indeed time to stop, as living the spiritual life does not mean you need to be perfect, or that it will make you so! You are, after all, human and flawed, and on occasion you will make mistakes… and sometimes you will do so splendidly! However, if you learn from your mistakes, and do not repeat the process, you will start to live more spiritually attuned.
Acknowledge that life will always go on, no matter what. Sadly, there will always be hardships to face in life – some big and some small. Developing your spiritual side, however, will allow you to take a step back and observe how these very same challenges will positively change you as a person.
While it is true that life can, indeed, be hard sometimes, if you go with the flow of things and give up on the fight, so to speak, then you start to learn that what you really need to learn. Furthermore, it is always wise to bear in mind that even bad things can happen to good people for the right reasons.
Forget the hype. In today's modern world, many people are, sadly, judged by how they look and what they own. However, you are much more than this. Sincerely, it doesn't really matter what brand of designer shoes you are wearing. What truly matters is the kindness and understanding you have to offer the world around you, as well as the love you have to give others. As long as you spread some love and light wherever you go, it is all that really matters.
Always follow your gut feelings – whatever they may tell you. Have you ever said to yourself that you wish you had listened to your intuition? What happened when you didn't? Things sometimes went terribly wrong, right? Well, again, please try not to judge yourself too harshly about this, but endeavor instead to get into the routine of listening to what your inner guidance is telling you… and see how far it will take you in life.
Take some time out! Constantly thinking about your problems and issues do not always solve them. However, if you put your faith in the Universe and trust that it cares for and will guide you, you should release your problems and allow things to sort themselves out. Why not stand back and take stock of how problems become resolved, without you having to give their resolution too much thought. Sincerely, going with the flow is the spiritual way to go.
Being spiritual has nothing to do with what you believe and everything to do with your state of consciousness ~ Eckhart Tolle
Acknowledge that love does not know any restrictions. The Buddha suggested that we treat all those we meet as if they were a loving and kind mother. Yes, even those people that we really do not like. Could you do this for just 24 hours? It may be a real effort, I know. However, if you put your love out there to everybody, irrespective of what kind of people they may be, it does change the world to some extent.
So, do try to be loving, compassionate, patient and understanding when you can, and put others first on occasion. Spiritual living is all about reconnecting with the soul and, after that, also other people's souls. Do this, and you should find that you gradually help make the world a kinder place to be.
Finally, keep the faith! Here is a powerful exercise for you to try that could really help transform your life for the better. Ask the Universe, in your mind, to prove your faith. The sign you are given will be totally unique to yourself, but whatever it may be, it should help you on your journey to a more spiritual way of being. Have trust that this sign will be delivered to you, celebrate it when it does, and continue to enjoy your unique spiritual lifestyle.

About The Author: Lucinda

Lucinda is a highly trained Intuitive and Empath, living in a beautiful village in North Yorkshire, England. She possesses the rare gift of understanding a client's personal pain and has been through many challenges, herself, which has only made her stronger! It is both her calling and her happiness to help those in need. And whenever she needs a little help herself, her Guides are always there to assist in her development and provide clear interpretations for her clients. Prediction has always been a great tool she could count on to accurately foretell events, but Lucinda also draws on her expertise with Dream Interpretation, Numerology, Angel Cards, Law of Attraction and Life Coaching to provide full and detailed solutions to any problem. A member of AMORC and Beyond Freedom Evolution, she provides inspiration, education and personal support for spiritual development. If you'd like answers or want to attract your desires, you can find Lucinda at PsychicAccess.com.