Be Patient And Trust The Process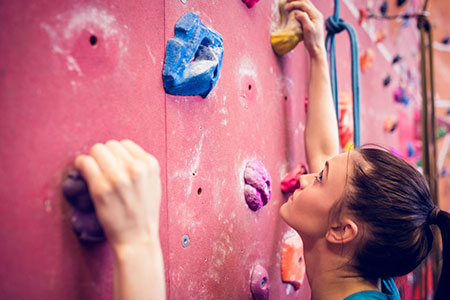 Life presents many challenges to each of us. Even those people who you think have lucky 'horseshoes' and 'rainbows' over them, have their own challenges, just like you and me. However, it is how they choose to deal with adversity that makes the real difference in their 'fortunate' lives. Their choice of reaction, or non-reaction, to each setback or negative event in their life, is what creates their 'luck.'
If your life seems to be suffering from a lot of 'bad luck' lately, take another look at how you reacted to your last break-up, loss of a job, lack of finances, or not manifesting your dreams. Are you that person who chooses to sulk, complain and be envious of the success of others… or are you the person that knows that challenges are just side-steps towards what you are going to achieve for yourself?
Your perception, or the way you look at life, is what makes or breaks us in the end. That person who seems to have everything you desire, did not get there because they were 'lucky.' They arrived where they are because they believed, and they worked hard on what was important to them.
When that job didn't come in that they wanted, they didn't get upset or discouraged,. They didn't give up and think they were not good enough. They stood back up, shook it off. They accepted that they didn't get that job because something far better was probably in store for them down the road. It often is that simple.
When things are not given to you, there is always a reason. It is usually because the Universe has something better planned for you. Don't try to always control the direction things go.  Simply be grateful for what is going to come to you, and know that even if it's not happening on your impatient human timing, it is coming your way on Divine timing.
The universe always has the first move and it is in charge.  Some things happen before you can think of them and other things happen much later than you want.  There is a divine design and divine timing to everything ~ Lee Papier
I have learned to not hold onto my past. Every time I held on, nothing changed. I remained stuck and unable to open up to new blessings. But mountains moved and doors opened the moment I shook it off and said, "Thank you, Universe, for the blessings that are going to replace this lost opportunity." And no, those blessings did not arrive overnight. They came in their own good time.
Patience plays a fundamental role in our lives, and yet it is something that so many of us struggle with. We have become an impatient society of 'I-want-it-now.' Instead, we should simply slow down, be present in the moment and smell the roses along the way, noting the beauty in all things as we pass through life. When the things we want doesn't come in the blink of an eye, there is anger, frustration, and even giving up. Once you learn that patience truly will bring the best that life can offer, that is when the shift will take place for you.
We all have the ability to manifest what we desire in our lives, as long as it does not harm or interfere with the free will of others. You cannot force another person's energy to become what you want it to be.
Never cut a tree down in the wintertime. Never make a negative decision in the low time. Never make your most important decisions when you are in your worst moods. Wait. Be patient. The storm will pass. The spring will come ~ Robert H. Schuller
Manifesting, is not just about saying over and over, "I am a millionaire," or "I have a forever partner," or "I am working my ideal job." Manifesting comes from simply allowing life to progress in Divine timing, and being grateful for every hiccup along the way. Gratitude is not only for the good, it is also for the negative aspects, because each one of them is a lesson to teach us to grow. Growth is imperative to success and forward movement.
Make a list of things in your life to be grateful for, and turn them into daily affirmations. Then say them every day, and believe them. It's not that difficult. One of my favorites is: I am perfectly perfect as I am.  And guess what, you are! Be in the moment, be patient and trust the process. Meanwhile, just aim to be the best you can be in every moment, and the gifts and blessings will flow more frequently into your life.

About The Author: Sheri

Sheri is an international psychic and angel reader who provides clear answers on finance, career, relationships, manifesting your dreams, and working-out the kinks of life. Since 2004, Sheri is the owner on an International Spiritual Healing Centre where she runs her Reiki practice - either working on clients or teaching them the levels of Usui Reiki. She utilizes her office space for readings that are conducted via mail, phone, chat or live. Since 2008, she's honed her gifts on various psychic service websites, where she's provided telephone, chat or email readings. She also works on a spiritual network for people who have suffered horrific loss, applying her own first-hand experiences with such tragedies. Sheri's work has been described as honest, compassionate and life-transforming and she would like to see all of her clients soar free to a higher level of spirituality and growth, and exponentially change the world to the best it can be. You can get a psychic reading from Sheri at PsychicAccess.com.